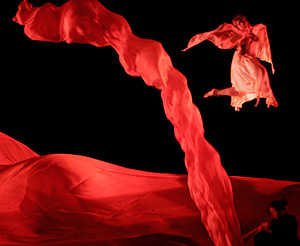 The "most incendiary" of experimental ensembles (Frank Rich, The New York Times), Mabou Mines was formed in 1970 under circumstances since buried in fable and academic paper. Here are some of the facts: In 1970, Lee Breuer and Ruth Maleczech, increasingly frustrated playing to all-expatriate audiences in Paris, were persuaded by Philip Glass, JoAnne Akalaitis and the establishment of the new National Endowment for the Arts, to move to New York and start a theater company exploring new ideas in language, literature, music, performance and the visual arts. At the time, Philip and friend Rudy Wurlitzer were negotiating for a property in Dunvegan, Nova Scotia, near to a town called Mabou Mines.
The new theater collective needed a name. "Mabou Mines" was chosen because "it sounded like a band, or the title of an album," according to Ruth. The land deal fell through though, and by the time the company settled in nearby Margaree Forks it was too late to change the name.
In addition to JoAnne and Philip, Ruth and Lee, the founding group included the English actor David Warrilow, the group's first star (and later, first Obie winner) and a favored actor of Samuel Beckett. The actors Frederick Neumann and Bill Raymond joined in 1971, followed by Terry O'Reilly in 1973. All held the title "Co-Artistic Director" in an unorthodox organizational structure that has proven resilient and long lasting.
In its earliest days, the company abstained from assigning professional credits, preferring to list a show's contributors as a group, an approach expressive of the company's work ethic. Then as now, with the mantra of, "I feed you; you feed me," Mabou Mines "recognizes, cultivates, absorbs, exploits and shows off the personalities, strengths and idiosyncrasies of each of its voices." (American Theatre), buttressed by an admirable administrative tenacity.
The company's first work, The Red Horse Animation, was underwritten by Glass's sale of a scale model given him by the sculptor Richard Serra. A nearly 4-hour performance (later cut to 39 minutes) at Soho's Paula Cooper Gallery caught the eagle eye of downtown doyenne Ellen Stewart and led to a residency at her theater, La MaMa ETC. A New York Times grilling of a performance at the Guggenheim Museum might have killed another young company, but not Mabou Mines. Before long the visionary producer Joe Papp, calling the company his "black sheep," gave them use of the old prop shop at The Public Theater for performances. His imprimatur gave a much-needed boost to the still-fledgling troupe.
Initially, the company was associated with the conceptual art movement in general, performance art and minimalist music in particular. Most of their work arose through commissions from university music and art departments rather than legit theaters. It was their extensive work with Samuel Beckett's writing, however, that located them firmly in a theatrical context. In a company history written in 1990, they were able to report that, "Mabou Mines has produced eight pieces by Samuel Beckett [Cascando, Come and Go, Company, Imagination Dead Imagine, The Lost Ones, Mercier and Camier, Play, Worstward Ho], six of which have been world premieres of texts not originally written for the theatre. These productions have led to Mabou Mines being considered one of the foremost interpreters of Beckett's work."
Within a few years Glass departed to work exclusively with the music ensemble he had formed. At various times in the 1970s and 80s, the co-artistic directorate grew to include Greg Mehrten, L. B. Dallas, Ellen McElduff and B-St. John Schofield. As funding for experimental theater flowed and ebbed and professional choices made by members of the co-artistic directorate came to pass, the group would hold periodic meetings to decide whether or not to go on.
1990 proved a watershed year. The company was then twenty years old and working on a gender-reversed production of Shakespeare's King Lear, an enormous artistic and financial undertaking. Before the year was out, JoAnne, Bill, Greg and Ellen left to pursue independent careers in film and television as well as theater. L.B. Dallas changed course completely, returning to school for an engineering degree. Lee, Ruth, Fred, and Terry stayed on, keeping the name and unorthodox organizational structure intact. "We had work we wanted to do lined up like hurricanes off the Florida coast," Terry remembers.
The company has continued to appropriate anything they like – cartoons, sacred tomes, epic poetry, artist biographies, Kathakali dances, bunraku puppetry, pulp fictions – and invent a unique context in which to reconsider it with free-associating brilliance. Applying what Lee has called the "accordion theory" of theater economics, Mabou Mines has consistently produced groundbreaking work on shoestrings or hundreds of thousands of dollars, as the funding bird flies.
Throughout its history, Mabou Mines has collaborated with dozens of well-known writers, musicians, visual artists and filmmakers, amassed a mountain of awards and critical praise, and performed around the globe, extending its reach as a force for innovative theater. In 1999, two new co-artistic directors, Sharon Fogarty and Julie Archer, joined the ensemble, as well as four artistic associates: Honora Fergusson Neumann, Karen Kandel, Clove Galilee and David Neumann.
Mabou Mines has thus become something of a contradiction in terms, a long-running avant-garde institution (2010 marked the company's 40th anniversary); fittingly, their office and performance space in New York's 122 Community Center is undergoing a long-overdue renovation. The company characteristically has at least four new works in the wings, with one approaching premiere and many others available for touring. Or, as Ruth said, "One in development, one on the road, and one trying to sneak in the door ahead of its time."