Red Beads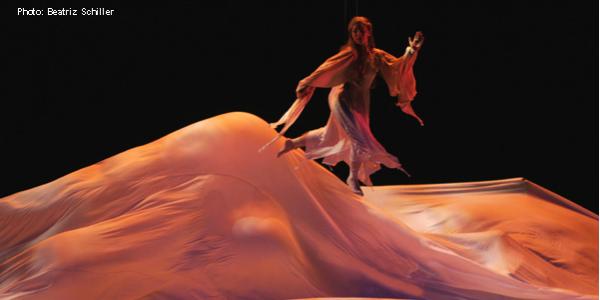 September 20, 2005
PREMIERE: Skirball Center for the Performing Arts – NYU
From an Original Story by Polina Klimovitskaya
Music Composed and Arranged by Ushio Torikai
Animated Design and Puppetry by Basil Twist
Performance Poem and Direction by Lee Breuer
Choreography Clove Galilee
"Red Beads, Mabou Mines' new production, is theater as sorcery; it is a crossroads where artistic traditions meet to invent a marvelous common language… What is transformational for the audience is the works' beauty. What a marriage of minds, bodies, tools and talents."
—New York Times
Lighting Design – Jennifer Tipton, Mary Louise Geiger
Projection Design – Julie Archer
Costume Design – Meganne George
Sound Design – Ken Travis
Producer for Mabou Mines – Sharon Fogarty
Choreography – Clove Galilee
Music Director – Tom Chiu
Choir Director – Ira Shankman
Production Management by – Juniper Street Productions, Inc. – John Paull
Production Stage Manager – Martin Lechner
Flying by FOY
Fly Team Coordinator – Janet D. Clancy
ORIGINAL CAST
Daughter – Clove Galilee
Father – Rob Besserer
Mother – Ruth Maleczech
The Doubles
Mother – Chelsea Bacon
Daughter – Zoe Phillips
Father – Terry O'Reilly
DESCRIPTION
Red Beads is a gothic, coming-of-age fairy-tale/opera, choreographed aerially. Lee Breuer's performance poem, drawn from an original story by Polina Klimovitskaya, explores the eerie family dynamic of a daughters' transition into womanhood and the gift, from mother to daughter, of the red beads, a metaphor for the passage of power and sexuality. Using only wind, Basil Twist transforms swaths of fabric into luminous, quivering, ephemeral sets and puppets- Along the way, challenging our perception of space and proportion. Ushio Torikai's haunting, dissonant score swells and ebbs, driving the story while evoking the psychological tension one equates with Hitchcock.
PRODUCTION HISTORY
Red Beads was developed during residencies at the Walker Arts Center & Red Eye in Association with Three Legged Race in Minneapolis, Minnesota, in July 1999 and at MASS MoCA during January/February 2001 and July/August 2002. Special music rehearsals were sponsored by a TCG/MetLife Foundation Extended Collaboration Grant.
AWARDS
Basil Twist & M.L. Geiger selected to be represented at the 2007 Prague Quadrennial for their design work on Red Beads.