RAP 2015-16 – Resident Artist Showings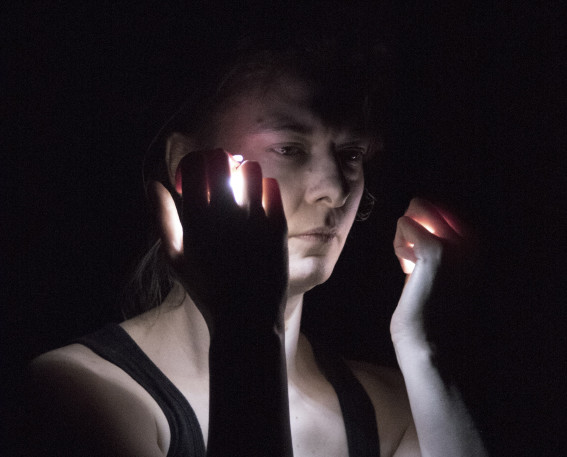 May 30th – June 3rd, 2016
The Flamboyan Theater located at The Clemente
107 Suffolk Street (between Rivington & Delancey), New York, NY 10002
ALL PERFORMANCES ARE FREE TO THE PUBLIC
– RSVP to RAP@MABOUMINES.ORG –
2015-2016 Resident Artist Showings
Graceful Exit – Alanna Coby + Megan Hanley (The Syndicate)
Monday May, 30 @5:30pm + Friday, June 3 @7pm
70-year-old Maria receives a cancer diagnosis that makes her question how she wants to die. Unfolding through a series of short scenes with Maria's much younger lover, song-and-dance numbers with her nurse, stand up routines from Maria's daughter, and missives from a Sea Shepherd Conservation team volunteer at sea, Graceful Exit is a darkly comedic play that asks "Who controls your death?" Conceived and written by Alanna Coby, with direction by Megan Hanley, music by Sean Vigneau-Britt, and developed in collaboration with ensemble theatre company, The Syndicate.
Genet's Balcony: (re-mixed) – Nelson Eusebio III
Mon. May 30@8:30pm + Friday, June 3@5:30pm
A trans-media adaptation of Jean Genet's play, The Balcony. The residency will be used to develop a performance script through devised physical theatre techniques, music, filmmaking, and social media. The goal for the residency is to create a fully developed script with a small company of artists consisting of a composer, designers, actors, and filmmakers.
Meditation Zero – Kate Brehm
Monday, May 30@7pm + Tuesday May 31@8:30pm
A band of pretend scientists perform research to early 80s music while pontificating on the nature of reality, humanity, and the on and the off. Meditation Zero takes a stab at ruminating on what Freud would recognize as the Death Drive, but which I am reframing as the cyborg situation. With devising support from Karen Kandel and Gregory Schott. Performed by Anthony Napoletano, Hannah Schilsky, Kate Brehm, and friends.
This Is A Play By Jane Austen – I AM A BOYS CHOIR
Monday, May 30@10pm + Tuesday May 31@5:30pm
An exploded version of all things Jane Austen that engages audiences in thinking about gender and class. We are stealing this iconic piece of heterosexual Western culture, appropriating it for the queer world, and using it to indulge and undermine the structures it is used to uphold. We aim to claim the characters who champion rigid gender roles for the darkness; after all, what is more queer than the self aware performance of gender?
The Harriet Holland Social Club Presents the 84th Annual Star-Burst Cotillion in the Grand Ballroom of the Renaissance Hotel – Colette Robert
Tuesday, May 31@7pm + Wednesday, June 1@7pm
By recreating a black debutante ball as an immersive theatrical event, this project will explore the history and language of "presenting" black female bodies. A company of black female artists will use music, movement, and text to transform a coming-of-age ritual into a personal and political piece of theatre.
Let's Make A Lil' Human That Looks Like You And Me – Rachel Karp
Tuesday, May 31@10pm + Wednesday June 1@8:30pm
In 1920, Karel Čapek wrote the play "R.U.R." in which human-made robots take over the world and humans stop making babies. Almost 100 years later, "Let's Make A Lil' Human That Looks Like You And Me" examines current trends in humanoid robotics and human population. Science, sex, and classic Eastern European theater combine in an effort to understand what labor and life mean today. Created in collaboration with performers Kim Fischer, Yasmeen Jawhar, Emily Kaplan, Marlowe Holden, Rachel Sachnoff, and Ben Vigus
Solaris – Jon Levin + Josh Luxenberg (Sinking Ship Productions)
Wednesday, June 1@5:30pm + Thursday, June 2@7pm
On a spaceship orbiting an unusual planet, a team of scientists attempts to understand a vast and terrifying alien intelligence. This original theater piece will immerse the audience in a tense and unsettling world, using dance, physical theater, and an endlessly reconfigurable playing space. Following up on its acclaimed 2008 production There Will Come Soft Rains, Sinking Ship Productions continues its exploration of science fiction on stage.
(8) Memories of This Atlantis, or, No Place – Nicolas Norena
Wednesday, June 1@10pm + Thursday June 2@10pm
A theatrical fugue for two actors that loops until every audience member, at their own will, leaves the theater. The piece explores lost memories, spaces that live around us like invisible visitors, the cycle of conception-birth-growth-decay-death-and-decomposition, the division of the sexes, and a binary physicality of angles and curves. Directed by Nicolas Noreña and created with Timothy Scott and Erin Mullin.
The Kindness Project – Chongren Fan
Thursday, June 2@5:30pm + Friday, June 3@8:30pm
"The Kindness Project" examines the evolution, good or bad, of "kindness" in early 20th century and today's China. The piece is loosely based on interviews with people from different generations. The ensemble uses different devices to explore how the change of kindness affects traditional value, belief system and daily human interactions. "The Kindness Project" ensemble: Esther Chen, Shan Y Chuang, Chongren Fan, Qihao Huang, and Paul David Miller.
Some Must Watch While Some Must Sleep – Tanya Marquardt
Thursday, Jun 2@8:30pm + Friday, June 3@10pm
Taken from a years worth of sleeptalk recordings, Some Must Watch While Some Must Sleep imagines what would happen if your 'waking self' and 'sleeping self' met, conversed, and maybe even healed. A chamber work for two performers and an iPhone, the piece is inspired by TedTalks and seances, inviting you to contemplate the dreaming world through the verbatim transcripts of a sleeptalker. Some Must Watch While Some Must Sleep is written and performed by Tanya Marquardt alongside performer Barra Levy-Mazie, directed by Ellie Heyman, choreographed by Stephen O'Connell, and dramaturge by DD Kugler, with lighting design by Emma Riveria, and sound design by Omar Zubair.
Click here to view an excerpt from Some Must Watch While Some Must Sleep at BAX.
---
This program is made possible through generous funding by the Jerome Foundation and with public funds from the City of New York, Department of Cultural Affairs and Materials for the Arts.
Thanks also to the Greater Jamaica Development Corporation, Chapel of the Sisters, for supplying a space for these artists to work.