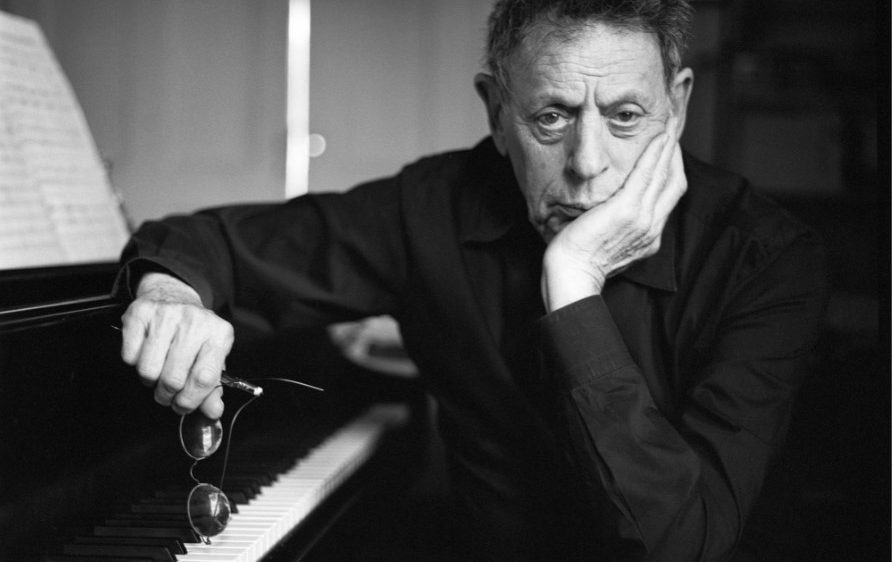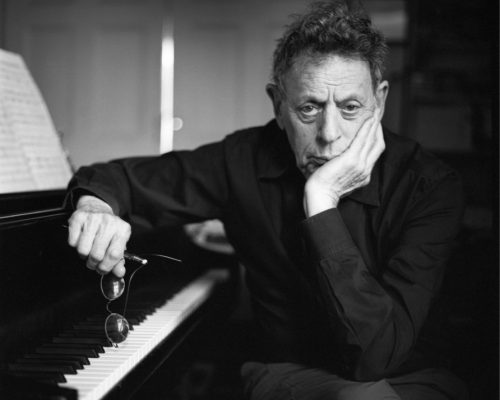 Born in Baltimore, Maryland, Philip Glass is a graduate of the University of Chicago and the Juilliard School. In the early 1960s, Glass spent two years of intensive study in Paris with Nadia Boulanger and, while there, earned money by transcribing Ravi Shankar's Indian music into Western notation. Upon his return to New York, he applied these Eastern techniques to his own music. By 1974, Glass had a number of significant and innovative projects, creating a large collection of new music for his performing group, the Philip Glass Ensemble, and for the Mabou Mines Theater Company, which he co-founded. This period culminated in Music in Twelve Parts, followed by the landmark opera, Einstein on the Beach, created with Robert Wilson in 1976.
Since Einstein, Glass has expanded his repertoire to include music for opera, dance, theater, chamber ensemble, orchestra, and film. His score for Martin Scorsese's Kundun and Richard Eyre's Notes on a Scandal both received Academy Award nominations while his score for Peter Weir's The Truman Show won him a Golden Globe. His film score for Stephen Daldry's The Hours received Golden Globe, Grammy, and Academy Award nominations, along with winning a BAFTA in Film Music.
In 2004 Glass premiered the new work Orion—a collaboration between Glass and six other international artists opening in Athens as part of the cultural celebration of the 2004 Olympics in Greece.  His 7th and 8th symphonies premiered in 2005 with the National Symphony Orchestra at the Kennedy Center for the Performing Arts in Washington, DC, and Bruckner Orchester Linz at the Brooklyn Academy of Music, respectively. 2005 also saw the premiere of Waiting for the Barbarians, an opera based on the book by J.M. Coetzee. Glass's orchestral tribute to Indian spiritual leader Sri Ramakrishna, The Passion of Ramakrishna, premiered in 2006 at Orange County Performing Arts Center. 
In April 2007, the English National Opera, in conjunction with the Metropolitan Opera, remounted Glass's Satyagraha to critical acclaim.  He and Robert Wilson then revived their groundbreaking Einstein on the Beach in 2012, which toured internationally and culminated with an Olivier Award for Best New Opera in 2013. 
Glass has added to his growing list of works with operas on the life and work of Johannes Kepler, (Kepler, 2008), and Walt Disney (The Perfect American, 2013), as well as an adaption of Franz Kafka's novel, The Trial, which Music Theatre Wales premiered in October 2014.  In November 2015, the Washington National Opera premiered a newly revised version of his 2007 work, Appomattox, which he and librettist, Christopher Hampton, collaborated on. 
Glass continues to write concert music: his 9th and 10th Symphonies premiered in 2012; a song cycle entitled Ifé -Three Yoruba Songs, written with his friend and collaborator Angelique Kidjo, was premiered by the Philharmonique de Luxembourg in January 2014; and the Los Angeles Philharmonic, conducted by Gustavo Dudamel, premiered his Double Piano Concerto, a piece written for pianists Marielle and Katia Labèque, in 2015. 
Glass's Symphony No. 12, based on David Bowie's album Lodger and a completion of the three symphonies based on Bowie's Berlin Trilogy, was premiered by the Los Angeles Philharmonic in January 2019. In July of 2019, his first Piano Sonata, written for pianist and friend Maki Namekawa, premiered at the Klavier-Festival Ruhr in July 2019, and the Manchester Festival premiered Tao of Glass, a theater collaboration with director Phelim McDermott. Circus Days and Nights, a circus opera with libretto by David Henry Hwang and Tilde Björfors, and co-produced by the Mälmo Opera and Cirkus Cirkör, will premiere in May of 2021. 
Outside of Glass's compositional activities, Liveright / Norton published Glass's memoir, Words Without Music in 2015. His multi-disciplinary arts festival, The Days and Nights Festival, takes place annually in Big Sur/Carmel, California. Meanwhile he continues his work in the preservation of Tibetan Culture as an advisory member of the Tibet House US and serves as the Artistic Director of the annual Tibet House Benefit Concert held at Carnegie Hall in New York City. Glass has received numerous accolades for his work over the years, including the Praemium Imperiale in 2012, the Eleventh Glenn Gould Prize in 2015, the U.S. National Medal of the Arts from President Barack Obama in 2016, and 41st Kennedy Center Honors in 2018.