About Mabou Mines: 
Mabou Mines is a collaborative hub for diverse, avant-garde theater artists. Our mission is to generate, support, and connect audiences with original works of experimental performance and inventive re-imaginings of the classics, while nurturing the next generations of innovative theater artists. Mabou Mines' creative vision is informed by the ethos of our co-founders: JoAnne Akalaitis, Lee Breuer, Philip Glass, Ruth Maleczech, and David Warrilow. Fifty-two years later, the company remains committed to collaboration and providing a platform for work that interrogates, innovates, and represents a multiplicity of identities and experiences. Company members include Co-Artistic Directors Mallory Catlett, Sharon Ann Fogarty, Karen Kandel, Carl Hancock Rux; Associate Artists Tei Blow, Perel, David Thomson, Carrie Mae Weems and Senior Artistic Associates JoAnne Akalaitis, Clove Galilee, Philip Glass, Greg Mehrten, Maude Mitchell, David Neumann, Bill Raymond, and Terry O'Reilly. 
Mabou Mines is proud to be an equal opportunity employer. Applicants from populations underrepresented in the theater field are strongly encouraged to apply. All qualified applications will receive consideration for employment without regard to race, color, religion, gender, gender identity or expression, familial status, sexual orientation, national origin, ability, age, or veteran status.
General Manager:
MABOU MINES is seeking an experienced manager to oversee business operations and producing of the company's productions and programs. The ideal candidate will be an excellent communicator with strong financial planning abilities and is able to delegate responsibility and collaborate with Artistic Directors, Board and staff. Full time or 3/4 time will be considered.

The General Manager works closely with Co-Artistic Directors, Company Manager and project producers to oversee and coordinate the company's administration, operations and productions.

Responsibilities include: Managing day-to-day operations, working closely with Co-Artistic Directors and project producers to plan, schedule and facilitate Mabou Mines' productions, tours, co-productions and programs such as SUITE/Space and Resident Artist Program; creating and tracking operational and project budgets; working closely with the Technical Director to communicate technical requirements for artists, projects and renters; supervise and schedule staff, including but not limited to Company Manager, Communications Associate, House Manager, Box Office personnel, and interns; work with Co-Artistic Directors and Board in hiring part time and full-time staff as needed.

Desired Experience: Strong appreciation of and interest in the arts and knowledge of experimental theatre; creative and flexible leader; able to influence and adapt; patient, with a sense of humor; college degree or equivalent life experience; budgeting and forecasting skills; excellent written communication and financial report preparation/presentation. Mabou Mines operates on MS Office for Mac; Google Suite; Mailchimp; Adobe Creative Suite (InDesign and Photoshop); VBO tickets; and WordPress. Proficiency with, or willingness to learn these programs, preferred.

Benefits: Generous vacation and holiday package, paid sick leave and contribution to health insurance. Retirement fund contribution 4% of annual salary.
If you are interested in working with us, please email info@maboumines.org, include a brief cover letter, resume and availability.
---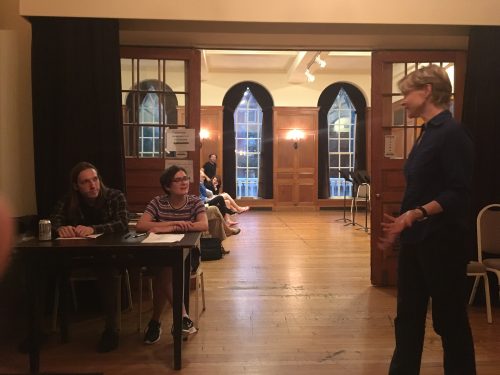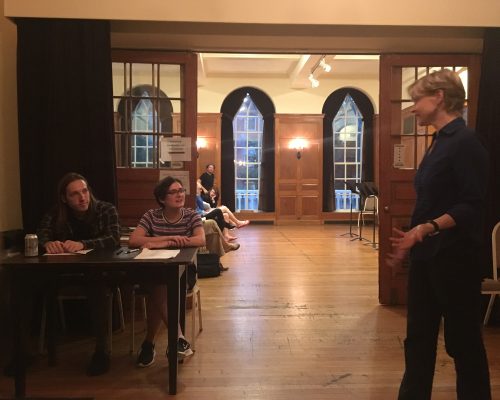 Internships:
Mabou Mines accepts internship applications on a rolling basis.
Social Media/Marketing Intern
• Collaborate with our marketing team to monitor and support execution of marketing tasks and deadlines on Social Media and via our Newsletters.
• Learn about and contribute to our marketing strategies for the upcoming season and beyond.
• A facility with words as well as an eye for catchy images and graphics is a plus!
Administrative/Archival Intern
• Learn about and support the Operations Director with day-to-day tasks of running a theater.
• In your down time, help with sorting, labelling, and categorizing images from our archives, digitally and physically.
• An interest in Mabou Mines' history as well as the workings of a collaborative downtown collective like ours is a plus!
Production Intern (show-by-show basis)
• Jack/Jill-of-all-trades persons interested in hands-on experience with shows encouraged to apply.
• Tasks can run the gamut from supporting the tech director in setting up for a show to assisting the company manager in organizing front of house task and helping fulfill artist needs.
• Someone okay with potential evening and weekend hours and a non-traditional schedule is a plus!
Arrangements can be made for school credit through your educational institution. If you are interested in interning with us, please email admin@maboumines.org, include a brief cover letter, resume and availability.
---
Ushering:
Mabou Mines offers the opportunity to see our shows for free by volunteering to usher. If you are interested in ushering, please email tickets@maboumines.org with the date that you are interested in seeing the show.