RAP 2009-10 | Resident Artist Showings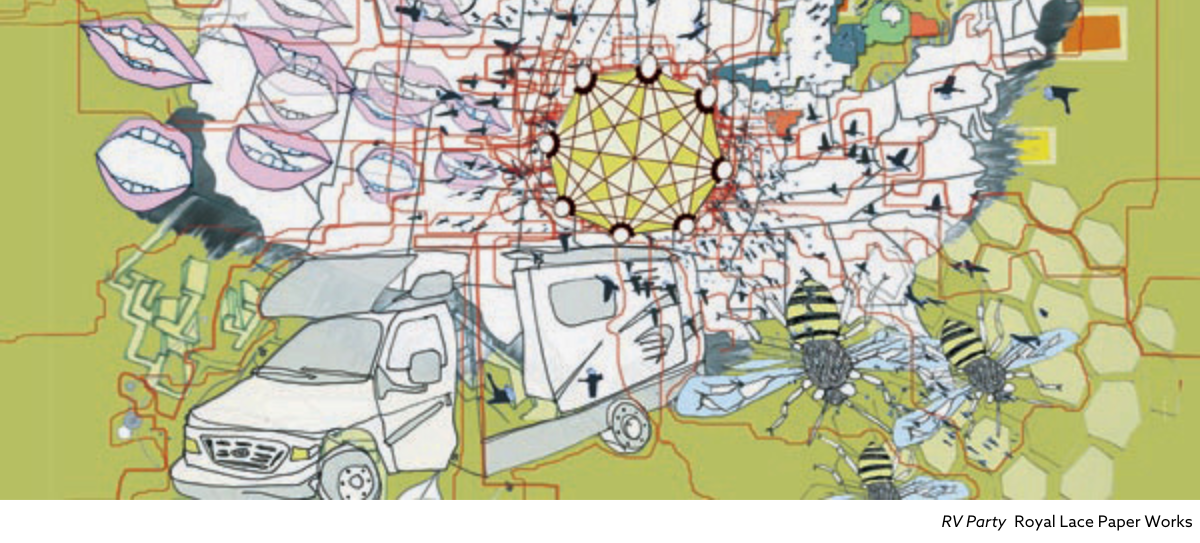 MALLORY CATLETT
VANYA REVISITED
Performances March 10 & 11, 2010
Conceived/Adapted/Directed by Mallory Catlett
Through the filter of sleep research and a Proustian formulation of memory and forgetting Catlett has dismantled and reconstructed Chekhov's play, Uncle Vanya. The central conceit of Vanya Revisted is that it takes place years after the end of Chekhov's play, probably after the revolution. Only 4 characters remain – Vanya, Sonya, Yelena and Astrov. Much older, they live in a state of disarray. Part intervention, part re-enactment, the events of the play unfold as the characters reconstruct the past in a last ditch effort to alter the outcome.
YIN MEI DANCE
CITY OF PAPER
Performances March 12 & 13, 2010
Yin Mei Dance
In Collaboration with Sang Jijia
A new evening-length dance theater work explores a Wayang-like shadow world in which light, sound, paper, masks and movement converge in a post-modern meditation on history, fact and the mutability of human perception. Set in a digitally interactive scenographic environment, the work weaves together personal vignettes, audio/visual fragments, a complex musical soundscape and abrupt yet sensuous movement, to create a dream landscape from which the events of a single momentous year in the Chinese Cultural Revolution gradually emerge.
The thread holding these multifarious elements together lies in the nature of paper itself – its transformative essence . . . light … its capacity to open doorways between worlds . . . its ability to communicate . . . its ability to lie. Chinese writing, or calligraphy, is thus both conceptual frame and artistic device in this work, as a digitally interactive paper stage environment becomes the scroll upon which Yin Mei and Sang Jijia, using both electronic sensors and their own bodies, "re-write" a difficult personal history.
AMPARO GARCIA-CROW
STRIP
Performances March 12 & 13, 2010
Written by Amparo Garcia-Crow
When the infamous Texan, burlesque dancer Candy Barr, died in the late 1990s, the New York Times wrote that Miss Barr, like Lenny Bruce, was a "subverter of official morality." STRIP, a burlesque musical, being written and developed by Amparo Garcia-Crow, takes both of these iconic figures – Lenny B. as the M.C. (who likes to think of himself as a Hal Holbrook-like Stage Manager) and Candy B. as the headliner (who'd rather be the town librarian) – to tell a dual narrative about trying to make a buck in the burlesque world without losing your soul. The story begins at a time when Texas was still the largest state in the union and The National Organization for Decent Literature was putting pressure on bookstores and enlisting local police to threaten booksellers too slow to 'cooperate' in removing from their shelves such filth spreaders as Hemingway and Orwell. Meanwhile "back at the strip show," as our M.C. puts it, "I knew that according to all true Christian standards, nudity in itself was certainly not lewd, but burlesque – with its "subtle" charades of grabbing, "floorwork", pulling and touching – was lewd. Lewd in the sense that there was a woman on the stage whose chief aim was to get the audience horny."
ROYAL LACE PAPER WORKS
RV PARTY
Performances March 18 & 19, 2010
Created by Jake Margolin and Chantal Pavageaux
In the RV Party, a couple who doesn't know each other very well drives across the country in an RV, fleeing a hometown catastrophe, hoping to run into the American Dream. Meanwhile, in the RV Party, a girl in a bee suit explains the self-organizing, emergent structure of ant colonies and the complex interactions of meta-social systems such as the stock market.
DANIEL KWIATKOWSKI
THIRST
Performances March 31 & April 1, 2010
Written by Daniel Kwiatkowski
A story of two people living in isolation. One is a woman who has made the ultimate sacrifice for her own survival. The other, a young man who abandoned his mother and the guilt that now drives him to find another. When the two finally meet the isolation only grows and the consequences of their actions begin to haunt them. What happens when the needs of one transform another? This is a story about hearts and stones. It is a story about blood and feathers, soil and clay. This is a story about thirst.
TAAVO SMITH
UNCLE VODKA
Performances April 3 & 4, 2010
Written by Taavo Smith
"The earth is extinguished, though I never saw it lit."What, while we wait for our lives to begin, as we wait for our lives to end? Games, booze, grief, fantasy, and futile gestures toward romance – the sad, silly heroism of the end of things. A vigorous dual adaptation of Anton Chekhov's Uncle Vanya and Samuel Beckett's Endgame.
SHIRA MILIKOWSKY & SATYA BHABHA
THE JOE ORTON PROJECT
Performances April 5 & 6, 2010
Co-created by Shira Milikowsky & Satya Bhabha
A multi-media performance based on the life, work, and death of English playwright Joe Orton. One actor plays many characters, including both Joe Orton and Kenneth Halliwell, Joe's long-time lover, sometime collaborator, and ultimate murderer. Using video and live sound manipulation the piece explores themes of doubling and separation, especially in light of Joe and Kenneth's "us-against-the-world" relationship. At a time when concepts of rebellion were resonating with youth culture across the western world, Kenneth and Joe were original cowboys. Their rage against the universe inevitably turned on each other, but it was never wholly separate from the world in which they were trying to live. John Lahr describes Orton's connection to the 1960's counter-culture in his introduction to The Diaries, "Orton's plays caught the era's psychopathic mood, that restless, ruthless pursuit of sensation whose manic frivolity announced a refusal to suffer."

ERIN LOCKLEY
WITHOUT TRACE
Performances April 9 & 10, 2010
Written by Eric Lockley
In Association with Members of the Movement Theatre Company
Without Trace is a drama that uses one family's chilling experience, the disappearance of their son, to investigate the black male psyche, the American Dream and notions of performance in relationship to race. The play is being developed within the frame of a family drama that takes place amidst an American crisis. The country finds itself in a Race War, and as trust within communities becomes strained, the future seems bleak, but a lost sons return may signal a new beginning or the beginning of the end.
MATTHEW PAUL OLMOS
THE NATURE OF CAPTIVITY
Performances April 13 & 14, 2010
By Matthew Paul Olmos
In Collaboration with woken'glacier theatre company
Developed in collaboration with the theatre company woken'glacier. The piece is inspired by the "Dog Catcher Riots", about a wave of human progress washing over an indigenous society causing the only remaining native family to fight back against their oppressors. Told in two parts, Olmos and company will be exploring the physical life of part one, in which the actors will inhabit various forms of movement, including: Viewpoints, Suzuki, Martial Arts, and animal work. At the same time they will workshop part two, which explores the human (or captor) side of captivity.