ANIMAL MAGNETISM

St. Ann's Warehouse and Mabou Mines
Animal Magnetism
Written By
Terry O'Reilly
Directed by
Lee Breuer
Music by
Eve Beglarian
PREMIERE
May 31, 2000
Arts at St. Ann's
Take one environmentally-sensitive chimpanzee, add a rhinoceros with shady business dealings, stir in a generous dollop of live music, plenty of animation and you have the recipe for Animal Magnetism, a raucous love story.
Cheri (the chimp) and Tin Tin's passion plays out on the ground – often amidst giant cartoon projections of themselves -as well as in the air. They soar and swoop and swoon in awe-inspiring aerial pas de deux. More than a love story, Animal Magnetism is also an allegory. It points out our species' insatiable appetite for destroying natural resources and the glaring disparities between the first and third worlds. This socio-political- erotic live-action cartoon is one you won't see on Disney anytime soon!
1 of 3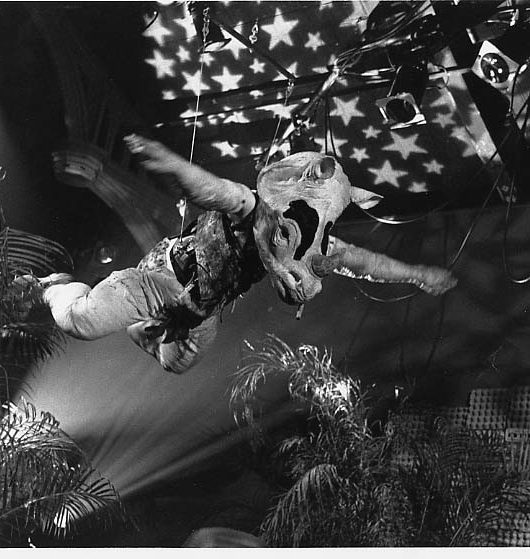 2 of 3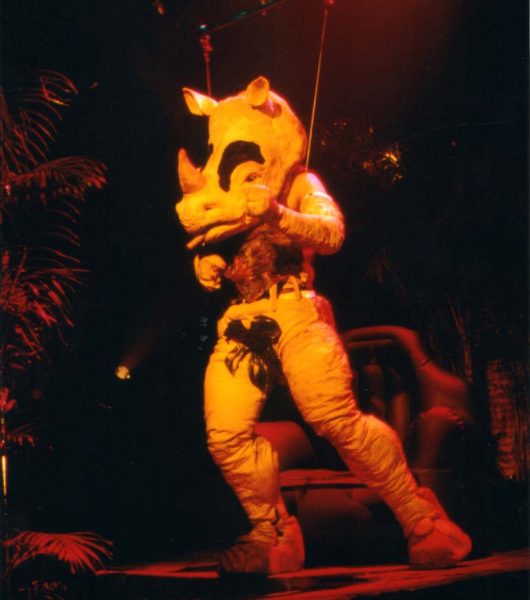 3 of 3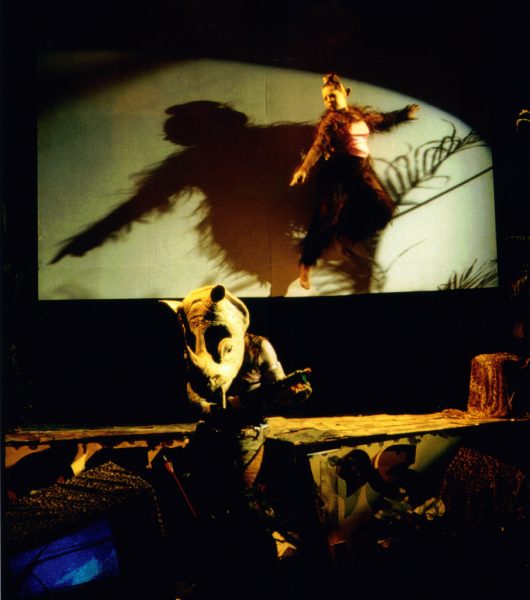 CAST
Cherry: Clove Galilee
Tin Tin: Sean Runnette
MUSIC
Strings: Robin Lorentz
Reeds: Bohdan Hilash
Percussion/sound effects: Jay Peck
Production Team
Production Design: Manuel Lutgenhorst
Lights: Mr. Lutgenhorst and David Overcamp
Animation Programming: Judson Wright
Rhino and Chimpanzee Costume Design: Susan Tsu
Lyrics: Robin Lorentz, Mr. O'Reilly, J. Daniel Stanley and Mr. Breuer
Additional Music: Bohdan Hilash, Ms. Lorentz and Mr. Stanley.
Flying by Foy
Production Stage Manager: Susan L. Hudspeth
Associate Producer: Martha Elliot
Assistant Director: Mr. Stanley
Costume Adaptation: Yuliy Liberman.
Press
THEATER REVIEW; Tin Tin, a Rhino, Meets a Monkey, and …-The New York Times
Animal Magnetism -Theater Mania
Development and Production History
Arizona State University West, Phoenix, AZ; (October, 1994)
Workshop in Sundance Institute in Provo, UT, (July, 1999)
Premiere at St. Ann's in Brooklyn, NY (April, 2000)
Festival Divadlo, Pilsen, The Czech Republic (October, 2001)
MALTA Festival, Poznan, Poland (July, 2004)