Mabou Mines DollHouse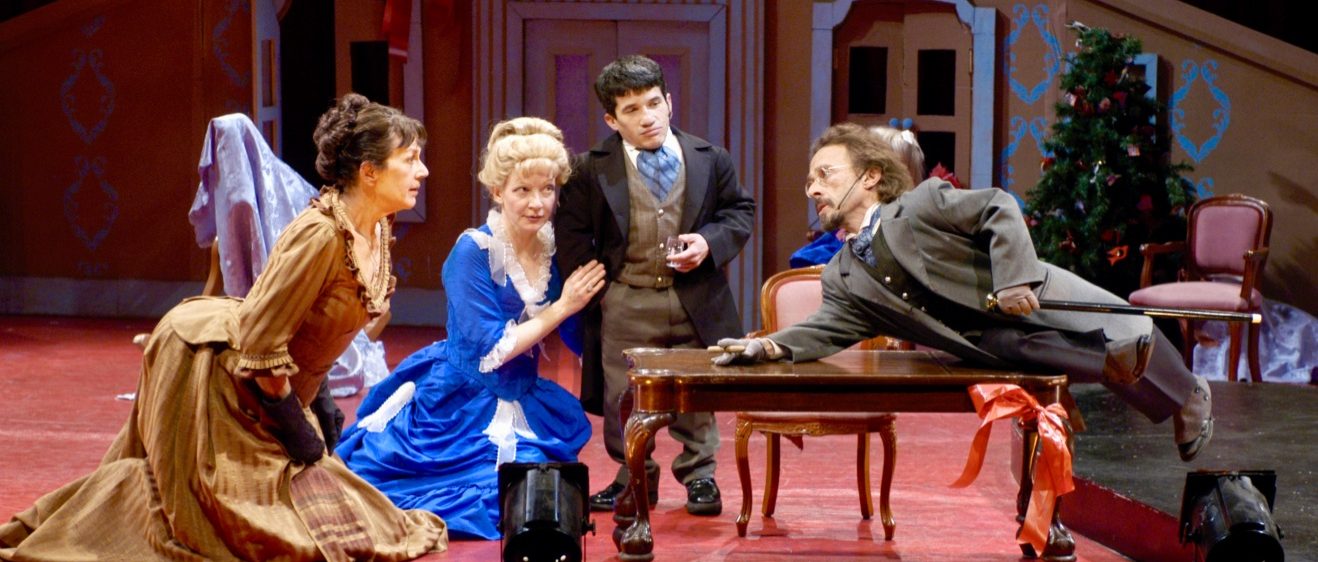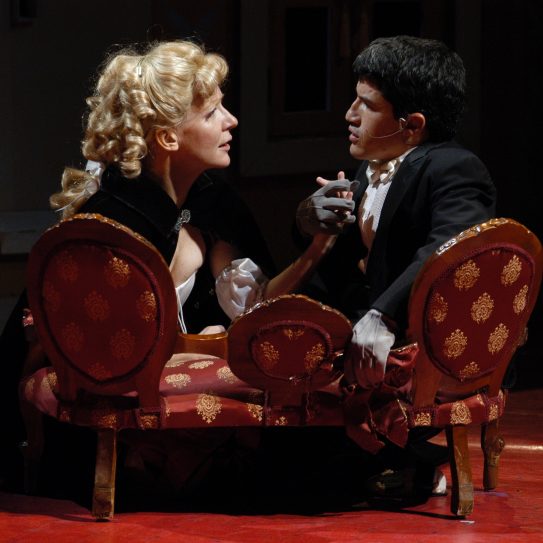 St. Ann's Warehouse presents
Mabou Mines DollHouse
conceived and directed by
Lee Breuer
adapted from Henrik Ibsen by
Lee Breuer and Maude Mitchell
Premiere
St. Ann's Warehouse
November 8, 2003
Nora comes home with a Christmas present. It is a dollhouse so large that the children can play inside. All the period furniture, the crockery, the knick-knacks are the right size for the children, Emmy and Ivar, who are hardly more than three feet tall.
Enter Torvald, Rank, and Krogstad – We find that the men are the same size as the children. Is this dollhouse the world of patriarchy, the world in which a woman never fits?
Here Ibsen's feminism is metaphorically rendered as a parable of scale. The dollhouse is a man's world and only doll-like women, who allow their men to feel grand, can hope to live in it. Even the cod-Norwegian accents are miniaturized; like the accents in Disney's "It's A Small World". Nothing here is real except the pain. Both Torvald and Nora are trapped in a meta-narrative, playing out an illusion of male power. Both pay the price: the death of love.
1 of 3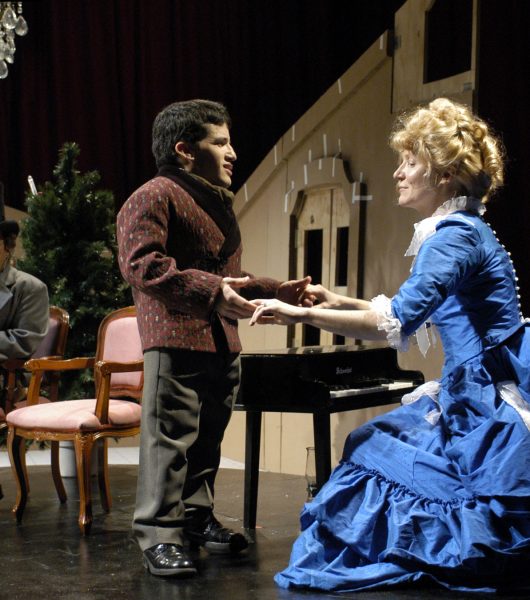 2 of 3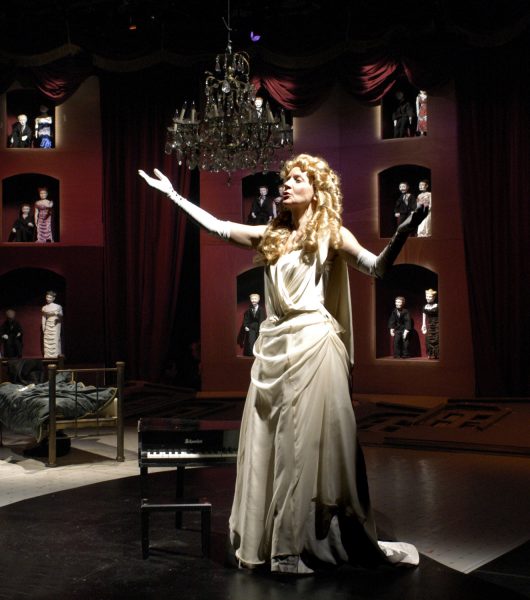 3 of 3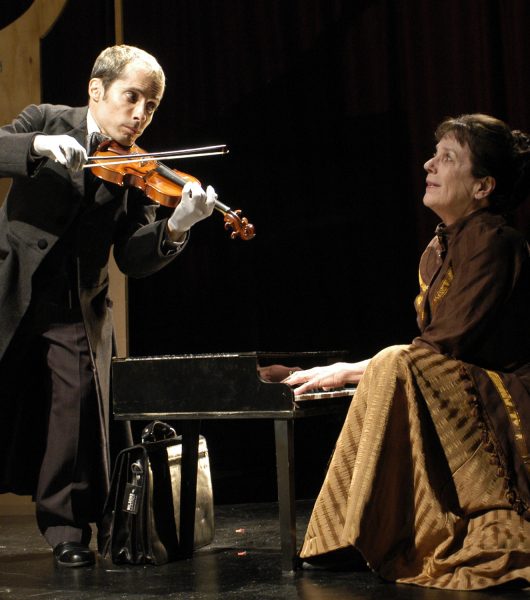 CAST
Nora Helmer: Maude Mitchell
Torvald Helmer: Mark Povinelli
Ricardo Gil: Dr. Rank
Nils Krogstad: Kristopher Medina
Kristine Linde: Honora Fergusson [Original]
Kristine Linde: Janet Girardeau [after 5/21/07]
Margaret Lancaster: Helene
Understudy: Nic Novicki:
Hannah Kritzeck: Emmy Helmer
Anna Maria: Jessica Weinstein
Production Team
Original Music & Collage of E. Grieg's piano music Assembled by: Eve Beglarian
Set: Narelle Sissons
Lighting: Mary Louise Geiger
Costume: Meganne George
Puppetry Design: Jane Catherine Shaw
Sound: Edward Cosla
Choreography: Eamonn Farrell
Additional Choreography: Erik Liberman
Assistant Directors: Eamonn Farrell & Dodd Loomis
Original Producer for Mabou Mines: Lisa Harris
Producers for Mabou Mines: Sharon Fogarty & Joe Stackell
Tour Producer for Mabou Mines: Dovetail Productions, Inc. – Sharon Levy
Production Management: Technical Theater Solutions – Rhys Williams, Randy Crabb
Pianists: Ning Yu,Lisa Moore, Susan Tang
Stage Hands: Eamonn Farrell, Dodd Loomis
Press
Mabou Mines Dollhouse– The London Times
Avant-garde staging of Ibsen's "A Doll's House" features radical casting -The Washington Post
'Dollhouse' hits the heights -Chicago Tribune
Mabou Mines DollHouse -The Guardian
From Mabou Mines, an extraordinary 'DollHouse'
Development History
New York Theater Workshop, NYC (June 20, 2002)
Sundance Theatre Lab, UT (July 7–27, 2003)
TOURS
Ibsen International Stage Festival, Oslo, Norway (Sept. 1–2, 2004)
Spoleto USA Festival, Charleston, SC (May 26–June 12, 2005)
Theater der Welt, Stuttgart, Germany (June 29–July 3, 2005)
Festival d'Automne, Paris, France (Sept. 27 – Oct. 2, 2005)
Theatre National Populaire de Villeurbanne, France (Oct. 5 – 9, 2005)
Theatre National de Strasbourg, France (Oct. 12 – 22, 2005)
Walker Arts Center, Minneapolis, MN (Nov. 9 – 13, 2005)
Wexner Center for the Arts, Columbus, OH (Nov. 16 – 20, 2005)
Museum of Contemporary Art, Chicago, IL (Nov. 30 – Dec. 18, 2005
Nazarian Center for the Perf. Arts, Providence, RI (March 29, 2006)
Yale Rep/Long Wharf Theater, New Haven, CT (Mar. 31 – Apr. 1, 2006)
Hopkins Center, Dartmouth College, Hanover, NH (April 4 – 5, 2006)
Mass MOCA, North Adams, MA (April 7, 2006)
SUNY Purchase, Purchase, NY (April 9, 2006)
Israel Festival, Holon, Israel (May 23-4, 2006)
Israel Festival, Jerusalem, Israel (May 26-7, 2006)
Kwai Tsing Theater, Hong Kong, China (June 2-4, 2006)
Brisbane Festival, Brisbane, Australia (July 15-22, 2006)
2006 Festival de Otoño, Teatro Español, Madrid, Spain (Oct. 25-29, 2006)
UCLA Live, Freud Playhouse, Los Angeles, CA (Nov. 28 – Dec. 10, 2006)
Harbourfront Centre, New World Stage, Toronto, Canada (Jan. 24-Feb. 4, 2007)
Rome Italy, The Auditorium, Parco della Musica (May 21-23, 2007)
Singapore Arts Festival, Drama Centre Theatre (June 21-23, 2007)
Edinburgh International Festival 2007, King's Theatre (August 24-28, 2007)
Wroclaw-Dialog Festival, Venue: Opera Dolnośląska, Wroclaw, Poland (Oct 10-13, 2007)
Teatro Español, Madrid, Spain (Oct. 26-Nov.4, 2007)
XI Festival Iberoamericano de Teatro de Bogotá, Bogotá, Colombia (Mar. 7-10, 2008)
L G Arts Center, Seoul, Korea (April 3-6, 2008)
Epidaurus Festival – Peiraios 260, Athens, Greece (July 21-4, 2008)
St. Ann's Warehouse, Brooklyn, NY (Feb. 12-Mar. 8, 2009)
Maly Branch Theatre, Moscow, Russia (Nov. 6-8,2009)
The Kennedy Center, Washington, D.C. (Oct 20-22, 2011)
Cutler Majestic Theater – ArtsEmerson, Boston, MA (Nov 1-6, 2011)
AWARDS
2003-04 OBIE Award to Lee Breuer for Direction
2003-04 OBIE Award to Maude Mitchell for Performance
2007 Dora Mavor Moore Award (Toronto) for Outstanding Touring Production
2007 Golden Herald Archangel Award (Edinburgh International Festival) for Sustained Achievement to Lee Breuer
2007 Garland Award (Los Angeles) to Maude Mitchell for her performance as Nora
2008-09 Drama League Nominations:
Distinguished Revival of a Play
Maude Mitchell for Distinguished Performance
2012 Elliot Norton Awards (Boston)
Outstanding Visiting Production
Outstanding Actress – Maude Mitchell