My Sunshine Book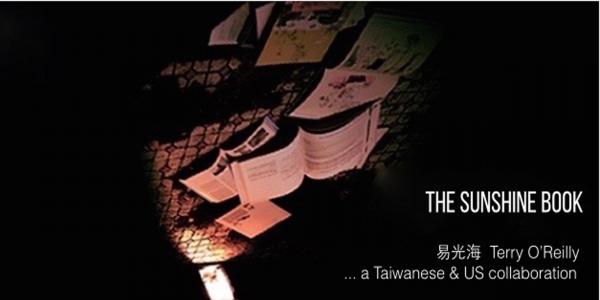 MY SUNSHINE BOOK
WRITTEN AND DIRECTED BY
Terry O'Reilly
My Sunshine Book is our book. It flows with common humanity, plural lives female and male that intersect and hope for change. The new writing deals with a boy who is a refugee, running, a theme especially meaningful in places where the sense of the future is one of uncertainty, as among the aborigines of Taiwan. Written as an open source invitation for collaboration for Taiwanese and US artists; The Sunshine Book is a song cycle of images, tableau, outburst and speechless dances, instrumental music, cinema and the power of the human voice…
Performances feature members of Aboriginal tribes in Taiwan, as well as artists and performers from the United States and Taiwan. The expanded text by Mabou Mines writer director Terry O'Reilly is intended for the particular interests of the Taiwanese people.
TRAILER
The initial trailer is now here! Click here to view.
PRODUCTION
Li-Ping TING – Taiwan – Arts of Sounds proposal
Mei Hui SHEA – Taiwan – Puppeteer/toy theater/stage designer
Wen Tsui WU – Taiwan – Choreographer
Ethan WANG – Taiwan – Film / Animation Design
Lee-Zen Michael CHIEN – Taiwan – Lighting / Production Design
LIU Tianya – Taiwan – Dramaturg Translation
Wan Lee CHEN – Taiwan – Costume / Image Design
WANG Samuel Shin-Shing – Taiwan – Technology Design / Production Design
Yinghow LEE – Taiwan – Violinist / Composer
Ahjohn CHIENG – Taiwan – Visuals
DEVELOPMENT HISTORY
Development originated in the US in 2013 and continued in Taiwan in 2014 with the support of ACC Taiwan, and the Taipei Artist Village/Treasure Hill Artist Village AIR residency program, MOC Taiwan. Terry was also a Fulbright Senior Scholar at Taipei National University of the Arts (TNUA) in Theater Anthropology for 2014-2015. A second major residency was completed in 2015-2016 at the Bamboo Curtain Studio in Taipei. The Sunshine Book is in development to open in New York 2021-2022 and as a touring show for English and Chinese speaking audiences in Asia, Europe and the Americas.
This work is supported by the Asian Cultural Council New York and Taiwan, Mabou Mines, Theater Communications Group US; and in Taiwan by The Bamboo Curtain Studio, Taipei Artist Village/Treasure Hill Artist Village, Optima Taiwan, Digital Arts Center, Jei Chu Sound, Grain Studio, with assistance from The Ministry of Culture Taiwan.
PRESS