RAP 2017 | RESIDENT ARTIST SHOWINGS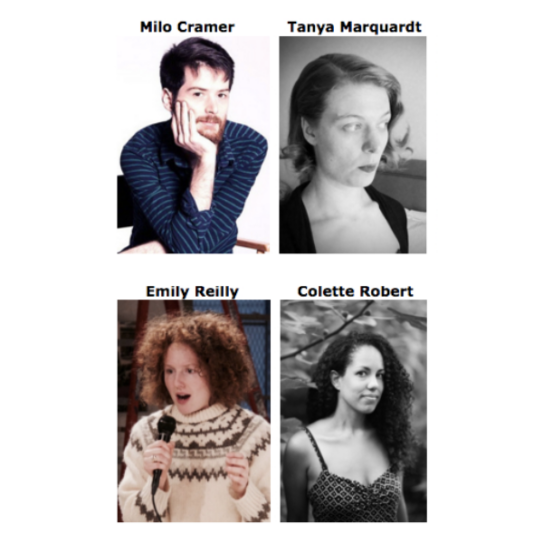 MILO CRAMER
BUSINESS IDEAS
Performance June 19, 2017
Created by Milo Cramer
Directed by Tara Ahmadinejad.
A reading of a new work-in-progress play that tracks (very loosely and imaginatively) every dollar playwright Milo Cramer has received, earned, been given, inherited, fundraised, or stolen, from birth till now, paying special attention to the way said dollars have negatively impacted vulnerable communities, in America and abroad, i.e. workers. Also contains magical sequences, full of hope.
TANYA MARQUARDT
SOME MUST WATCH WHILE SOME MUST SLEEP
Performances June 20 & 21, 2017
Written and performed by Tanya Marquardt
Taken from a year's worth of sleeptalk recordings, Some Must Watch While Some Must Sleep imagines what would happen if your 'waking self' and 'sleeping self' met, conversed, and maybe even healed. A chamber work for two performers and an iPhone, the piece is inspired by TedTalks and seances, inviting you to contemplate the dreaming world through the verbatim transcripts of a sleeptalker.
EMILY REILLY
TAKE MY EAR
Performances October 13 & October 14, 2017
Created by Emily Reilly
take my ear is a performance work about listening for the small things. A sound score composed of interviews with an eight year old artist, a travel loving Trinidadian pragmatist, a lapsed Christian Gallupian poet, a Swedish cult escapist, a knife wielding San Franciscan, a denim addicted no nonsense optimist from Saint Lucia, and an Armenian salsa dancing, coat loving polygamist, floats above a group of performers as they try to tidy and tend to their space. Inspired by the moment that follows, "will you have a cuppa tea?", our neighborhood, Crown Heights, and the sound work of Glenn Gould, take my ear is a meditation on home, interiority and the ways we spin stories.
COLETTE ROBERT
THE HARRIET HOLLAND SOCIAL CLUB PRESENTS THE 84TH ANNUAL STAR-BURST COTILLION IN THE GRAND BALLROOM OF THE RENAISSANCE HOTEL 
Performance June 25, 2017
Created by Colette Robert
The Harriet Holland Social Club re-imagines a black debutante ball as an immersive piece of theatre. Guided by an Emcee, we follow six young black women as they navigate "The Black Society Event of the Year" from getting dressed backstage through the crowning of a bright and shiny brand new Miss Star-Burst. This project explores the history and language of "presenting" black female bodies and the interplay of race, class, gender, and economics. Original music and lyrics by Dionne McClain-Freeney.