RAP 2023 – Eye Eye Eye 少女之眼 (working title) | Lydia Jialu Li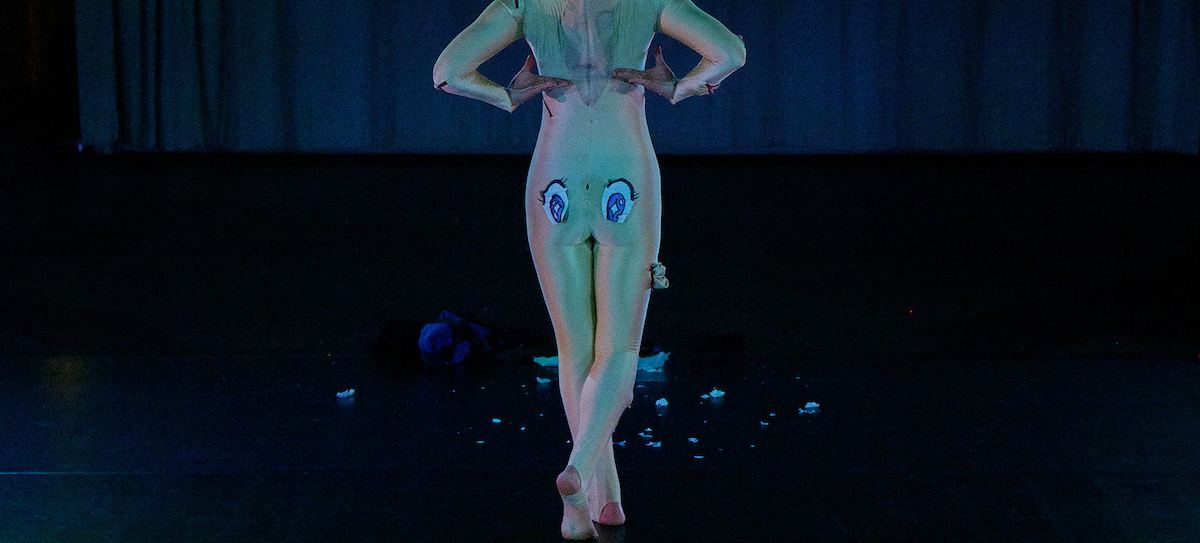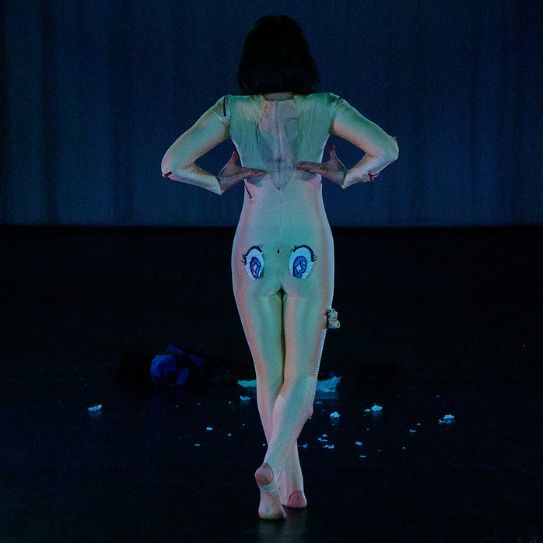 MABOU MINES RESIDENT ARTIST PROGRAM, 2023
Eye Eye Eye 少女之眼 (working title)
Created and Performed by
Lydia Jialu Li
SHOWINGS
June 8 at 7pm & June 10 at 9pm
ALL SHOWINGS FREE AND OPEN TO THE PUBLIC
Mabou Mines
@122CC
150 First Avenue, Second Floor
New York, NY 10009
Did you hear about the death of the girl?
A kaleidoscopic chronicle of a girl's metamorphosis from 1993 to today (39°54′15″N, 116°24′27″E; 120.228.149.221).
Created & Performed by
Lydia Jialu Li
Sound Design by
Kai-Luen Liang
Video & Projection Design by
Da Xu
Leotard Costume by
Xiyü Lin
Directorial Support from
Jonathan Taikina Taylor
In previous versions:
Directorial and Dramaturgical Support by
Xiaoyue Zhang
Seamstress
Sam Paul Salman
Composer
Thomas Witwer Lemuel
Creative Producer
Tom Rhodes
Academic Support on BL and Fan Culture in China by
Erika Wang
Monalisa Tianding He
Lydia Jialu Li (they/them) is a theatre creator and film actor. A Salituner, Beijingnese. Chinese, English, Japanese and Emoji user. "Ten- and a hundred-years old at the same time" — Michele Selene Ang. Previously played at Double Edge Theatre, JACK, LAPP, REDCAT, Outfest LA, AAIFF, MNFF, SDAFF, Urbanworld, Cairo International Film Festival, etc. BA in Sociology, Fordham University LC; MFA in Acting, CalArts. www.lilydia.com
Kai-Luen Liang (he/him) is a Chinese-American sound and media artist and musician based in Los Angeles. His work/research is interested in exploring various aspects of technology and erasure, surveillance/prediction, algorithmic divination, identity and migration, and shanzhai-hacktivism-piracy. He received his undergraduate in Asian American Studies from UC Santa Barbara and a MFA from California Institute of the Arts in Music Technology as well as a specialization at the Center for Integrated Media.
Da Xu (he/him) is a multi-faceted artist and creative technologist, focusing largely on audio/visual works. Live Visual Credits: Alienware Computers, LuLuLemon, LeTV Stones Throw. Toured extensively with the seminal Chinese rock band 舌头(SheTou) as photographer and live visual collaborator. Audio/visual movement works for LACMA's Art Walk.
Xiyü Lin 林熹雨 (she/her) is an accomplished costume designer and multidisciplinary artist known for her innovative and experimental approach to film, mixed media, and performance. Her notable achievements include styling the award-winning film Simulacra and designing costumes for Mukabang Roller. Xiyu's installation performance piece, Nemesis, was featured at Automata Theater in Los Angeles. Her work in The Little Red Book: or Plural Body, was selected to represent the United States at PQ23 Emerging and Early Career Costume Design. Additionally, Xiyu's costume design for the immersive theater adaptation of The Three-Body Problem premiered in April in Shanghai
Jonathan Taikina Taylor (he/him) is a director, teacher, and movement artist split between Mexico City and Brooklyn. He is Co-Founder and Artistic Director of The SuperGeographics Ensemble Theatre, with whom he has directed: Un Castillo de Cartas/The House of Cards, Panic Everything's Fine, Bacchic, Moving Mouths, RePlay: Shelter Island, and Signal. Under his direction The SuperGeographics' work has been seen in The US, Sweden, Chile, and India.
Photo credit: Michael Palma. Courtesy of Los Angeles Performance Practice