SUITE/Space 2022 | Glenn Potter-Takata | Yonsei f*ck f*ck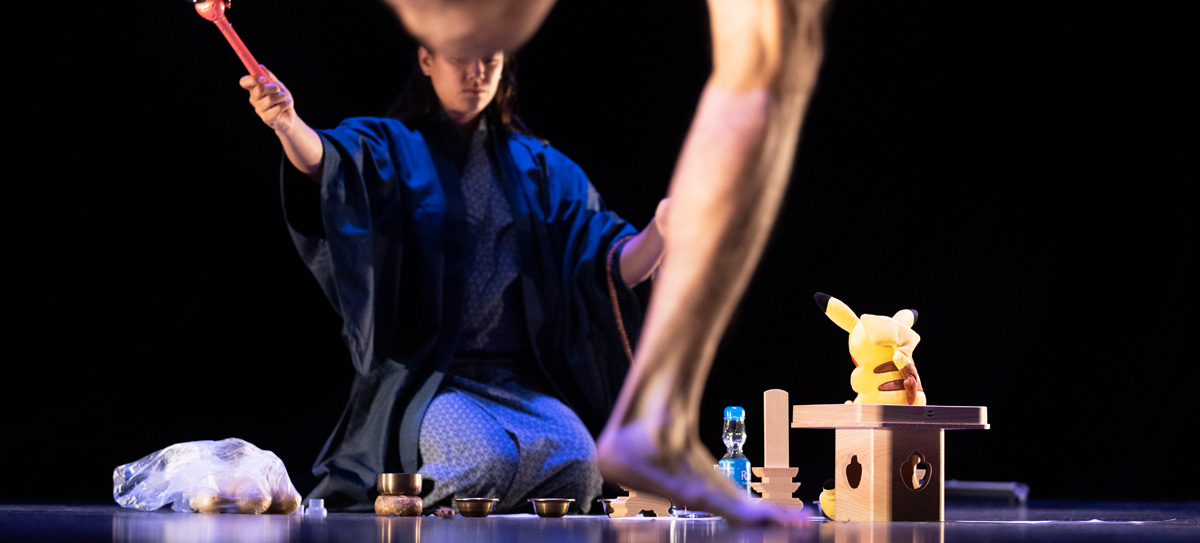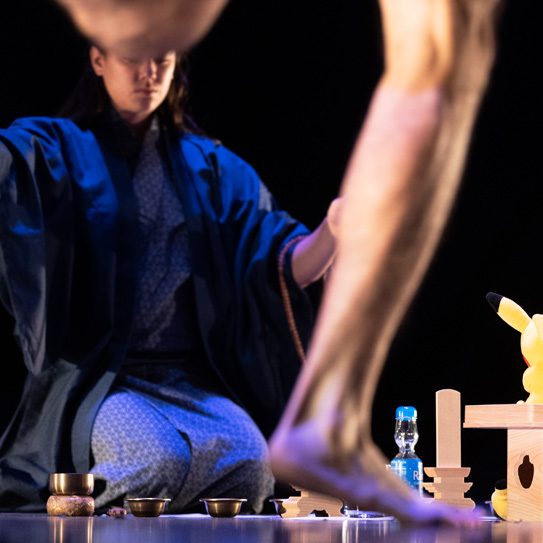 SUITE/Space 2022
Yonsei f*ck f*ck
Created by
Glenn Potter-Takata
Choreography by
Glenn Potter-Takata with evan ray suzuki and Kimiko Tanabe
Text by
Matt Seiiji Ketai
Performed by
Kimiko Tanabe, evan ray suzuki, Glenn Potter-Takata, and Matt Seiiji Ketai*
*These Actors are appearing courtesy of Actors' Equity Association.
Performances
December 4 @ 7:00pm | December 5 & 6 @ 9:00pm
Run Time: 1 hour
Mabou Mines
150 First Avenue (Second Floor), NYC 10009
_______________________________
Through butoh and re-contextualized Buddhist rituals, Yonsei f*ck f*ck imagines a future where the cultural erasure stemming from Japanese internment camps has been overcorrected and distorted into a value system where anime and Japanese junk food have been assimilated into the pantheon of buddhas and bodhisattvas. This new pantheon is used as the source of objects of worship, remixing Buddhist practice and folk traditions with the consumer culture runoff from the Japanese archipelago.
_______________________________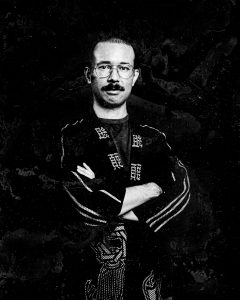 Glenn Potter-Takata (he/him) is a Bronx-based artist working at the intersection of Japanese religious ritual and butoh. His work centers a Japanese-American experience, and is preoccupied with the transfiguration of Japanese consumer culture as artifact. Glenn's practice utilizes Buddhist ideas of embodiment to create performances around the body as a historical site, uprooting latent narratives of Japanese internment through performance. Glenn is a 2022 Bronx Dance Fund Award recipient and a current Artist-in-Residence at Movement Research and Rogers Art Loft. He is currently a teacher of Sound, Video, and Media Design at Sarah Lawrence College, where he also received his MFA focusing in multimedia performance. https://gorngorngorn.com/
Special Thanks
Special thanks to Kevin Toyo Suzuki, Amy Larimer, Hilary Brown-Istrefi, Amanda Hameline, Jamie Danner, Tei Blow, Jiali Wang, and Sarah Lawrence College.
Yonsei f*ck f*ck was developed, in part, through a CUNY Dance Initiative residency at Lehman College, and was made possible, in part, through The Movement Research Artist-in-Residence Program, funded, in part, by the Jerome Foundation; Dance/NYC's New York City Dance Rehearsal Space Subsidy Program, made possible by The Andrew M. Mellon Foundation; the Harkness Foundation for Dance; the Davis/Dauray Family Fund; and by public funds from the New York City Department of Cultural Affairs in partnership with the City Council. Additional support was provided by Amanda + James, New Dance Alliance, WestFest, Pioneers Go East, Not Your Mother's Pan-Asian Festival, Williamsburg Art Nexus, Gibney Dance Center, 7MPR, and the Bronx Council on the Arts, funded through support from the Mertz Gilmore Foundation with additional funding from Amazon.
Collaborators
evan ray suzuki (he/him) is an artist and designer of yonsei Japanese descent who creates across butoh, dance, and film/video. evan has presented work with Ars Nova, JACK, Center for Performance Research, Triskelion Arts, CreateART, Amanda+James, and many others, and is a current LiftOff Resident Artist at New Dance Alliance. Recent performance credits include works by David Neumann, Mina Nishimura, and Glenn Potter-Takata. BA, Sarah Lawrence College
www.evanraysuzuki.com
IG: @evanxray
Kimiko Tanabe (she/her) is a fourth-generation Japanese-American freelance dance artist currently based in Brooklyn. She explores the mediums of performance art, dance, writing, origami and paper, and is in a committed partnership with her .38 Muji pen. Her work is intimate and inexact. She graduated from Colorado College with a B.A. in Creative Writing and Dance. She is a 2022 BAX Space Grant Recipient, 2022 Gallim Moving Artist Resident, 2021 Artist in Resident at The Floor, and 2021 Fresh Ground Pepper Play Ground Play Group Residency Cohort Member. She currently performs with Marion Spencer and Glenn Potter-Takata.
Matt Seiiji Ketai's (he/him) recent writing credits include: Paramount/CBS Writers Program (Finalist), ATX Television Fest (Semi-Finalist), Austin Film Fest (2-Time Second Rounder). Acting credits include: Regretfully, So the Birds Are (Clubbed Thumb ECGW Series), Liebling (Cleveland Play House, New Works), Dracula (Williamstown), A Christmas Carol (Trinity Rep.), among others. MFA Brown/Trinity.
Wyatt Moniz (Lighting Designer) is a theater designer and artist using lighting, projections, and sculpture to create unconventional storytelling devices. Recent projects include What Happens to Brown Girls… by Shenny De Los Angeles and The Baptism film by Carrie Mae Weems & Carl Hancock Rux. www.wyattmoniz.wixsite.com
Sound Design: Glenn Potter-Takata
Yonsei f*ck f*ck is an Equity Approved Showcase.