SUITE/Space 2022 | Shantelle Courvoisier Jackson | American Ghoul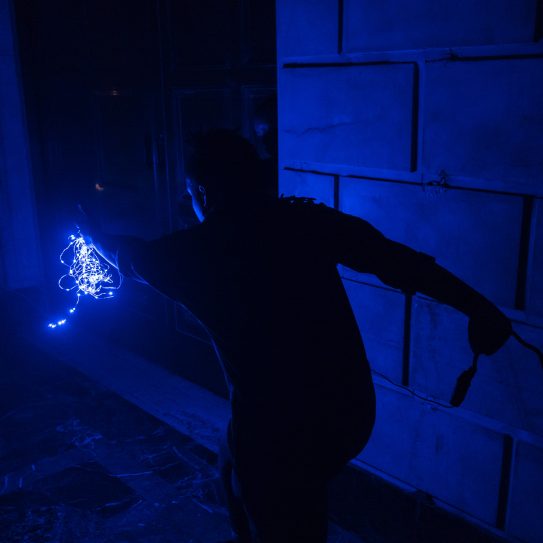 SUITE/Space 2022
American Ghoul
Created by
Shantelle Courvoisier Jackson
Performed by
Maddie Warriner, Light McAuliffe, Samantha Lysaght, Shiloh Hodges, Ube Halaya, Justin Faircloth, Shantelle Courvoisier Jackson
Music by
madam data, Maestro Flux, scj and slowdanger
Performances
December 8 & 10 @ 7:00pm | December 9 @ 9:00pm
Run Time: 1 hour
Mabou Mines
150 First Avenue (Second Floor), NYC 10009
_______________________________
American Ghoul loveconductors continues their exploration and excavation of collective repression. The ghoul series creates a performance world of shared practice, individual experience, and the unexpected beauty of co-created temporary autonomous zones in an increasingly unsafe world.
Content Warnings: flashing/strobe lights
_______________________________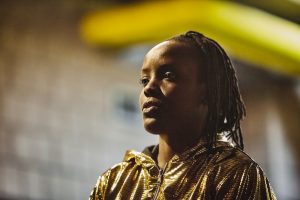 Shantelle Courvoisier (she/her) is an artist whose performance practice explores collaborative storytelling. Her past collaborations include Deeply Rooted Dance Theater, Urban Bush Women, Paloma Mcgregor, Daria Faïn and The Commons Choir, luciana achugar, Antonio Ramos & The Gang Bangers, Walter Dundervill, Allison Chase, Mia Habib, slowdanger and Maestro Flux. Her work is influenced by her studies with The Unseen Hand and her teacher Laura Clarke Stelmok. She is a performer, painter, facilitator and the director of loveconductors.
loveconductors is a Brooklyn-based human movement project which composes performance through shared practice across multiple media. The collective arose during Shantelle's Movement Research Van Lier Fellowship in 2016. loveconductors is composed of lifelong friends of Shantelle's: Madeline Warriner, Light McAuliffe, Samantha Lysaght, Shiloh Hodges, slowdanger, Ube Halaya, Maestro Flux, and Justin Faircloth. They have presented work at JACK, Movement Research at the Judson Church, FAB Arts Salon, BAAD, Chez Bushwick (AIR), Brooklyn Studios for Dance, ISSUE Project Room, and The Kitchen.
Shantelle Courvoisier Jackson is a 2021 Movement Research Artist-in-Residence supported in part by The Jerome Foundation.
Collaborators
Justin Faircloth is a performer from North Carolina. They are currently working with CLD, Blaze Ferrer, loveconductors, and Ash Yergens. Insta: bacnneggs.
Ube Halaya is a hybrid drag-performer-artist who wears, writes, and plays fantasy as bodily protection, extension, and archival. Follow @radical_ube on Instagram or Twitch.
Shiloh Hodges (artistic associate) is a performer (Third Rail Projects, SBDNY, Renegade Performance Group, HYPERBOLIC!) and word person whose practice is based in feminist & queer worldmaking practices.
Samantha Lysaght (choreographer) is a Brooklyn-based dance artist. She is a student at The School of 3 Lights, guided by her teacher Laura Clarke Stelmok. Samantha's work has been performed at Abrons Art Center, Gibney, The Dance Complex, and Southern Vermont Dance Festival. She is a member of loveconductors, a human movement project directed by Shantelle Courvoisier Jackson. She collaborated with Millie Heckler as a Gibney Work Up artist. She has danced for Abby Z and the New Utility, Erika Randall, and Rachel Oliver Young. She is grateful for her teachers Daria Fain and Cricket Colter.
Light McAuliffe is a barber and dance-maker queering heads and stages across NYC and beyond. Slide into the dms @lightcutsnyc although they have currently deleted the app.
madam data no longer provides information about what they do. They have settled on two ways of interfacing with the outside world:
1. Prayer
2. Sabotage
Madeline Warriner is a movement artist and educator in Brooklyn. She currently teaches at Rutgers University and sees private clients for yoga, Pilates, and personal training. Madeline warriner.com
Maestro Flux (Darnell Weaver ) | dancer/composer/musician is widely known for his teaching methods in Dance, Music, and Theater. Drawing from his professional performance background, he pushes children to reach new and exciting heights.  Currently, Mr. Weaver is the Dance program coordinator for Rainey Institute and is a Conductor for the El Sistema @Rainey orchestra. Darnell is excited about blending the arts – music, dance, theater, and visual – into one large and inspiring manuscript of life's most beautiful qualities, stories and lessons.
slowdanger is a Pittsburgh-based multidisciplinary performance entity co-founded and co-directed by anna thompson and taylor knight.
anna thompson is a movement artist, facilitator, vocalist, director and producer. They are co-founding artistic director of slowdanger alongside partner, taylor knight. Currently, they are adjunct faculty in modern dance at Point Park University's Conservator of the Performing Arts and resident artists at the Clarice Smith Performing Arts Center for their upcoming work, SUPERCELL. SUPERCELL is supported by the NPN Creation Fund and is a 2022 National Dance Project Production Grant awardee. They witness their work manifesting as one body amassed of multiple bodies navigating mixed realities through sustained collaboration and world-building.
taylor knight is a Pittsburgh-based multidisciplinary performing artist and facilitator, originally from Grand Prairie, Texas. They are co-founding artistic director of slowdanger, alongside their partner anna thompson, as well as Dance Faculty at Point Park University's Conservatory for the Performing Arts. taylor has worked with Jasmine Hearn, Nile Harris, Abdu Ali, Bill Shannon, Sidra Bell, Ate9 Dance Company, Christopher Williams and more. taylor is interested in manifestation of process through questioning the frameworks of performance. Currently, with slowdanger, taylor is an artist in residence at the Clarice Smith Performing Arts Center at the University of Maryland.