RAP 2019 – The Passion According to G.H. | Dara Malina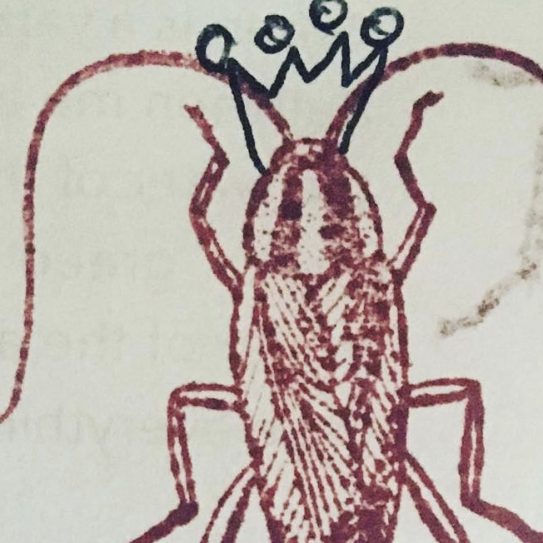 MABOU MINES RESIDENT ARTIST PROGRAM, 2019
THE PASSION ACCORDING TO G.H.
ADAPTED FROM  Clarice Lispector's THE PASSION ACCORDING TO G.H. BY
DARA MALINA AND LACY ROSE
SHOWINGS
May 21 at 8pm
May 22 at 8pm
ALL SHOWINGS FREE AND OPEN TO THE PUBLIC
Mabou Mines
150 First Avenue, Second Floor
New York, NY 10009
Director Dara Malina and Composer Lacy Rose are adapting Clarice Lispector's 1964 novella, THE PASSION ACCORDING TO G.H., into a multi-disciplinary opera.
THE PASSION ACCORDING TO G.H. is the story of a woman who encounters a cockroach while cleaning her home, tastes the white stuff inside of the crushed insect, and has an existential awakening. Known only as G.H., an unmarried self-sufficient female sculptor, she travels time and space while never leaving the quadrilateral room described as a "minaret." This transformative piece celebrates one of the finest Latin American writers of the twentieth-century. Our goal is to create something beautiful, grotesque and sublime. To immerse an audience into the soaring poetic language and abstract depths of this challenging work about individual agency, hope, and the meaning of life. To escape reality and enter the superior unreality of this mind-bending religious experience.
Dara Malina
Dara Malina is a director of theatre, performance, opera and film. She has devised radical performance experiments, developed new plays, directed opera films, and reinvented classic works in and around New York City over the past ten years. For her graduate thesis from Columbia University's MFA Theatre Directing program, she adapted and directed Clarice Lispector's THE HOUR OF THE STAR (The Connelly). Her interest continued with EDGE OF NOTHING, a durational performance piece at The Clarice Factor, a Clarice Lispector Symposium at Columbia University. Her work in opera is featured in two short opera films produced by The Pleiades Project including OPHÉLIE from Thomas' HAMLET and COSÌ from Mozart's COSÌ FAN TUTTE which premiered at New Ohio's NY Indie Theatre Film Festival. Most recently, she directed Sophie Treadwell's 1928 feminist expressionist masterpiece, MACHINAL with Pace University's BFA program. Member: Ensemble Studio Theatre and New Georges Jam. MFA, Columbia University. www.daramalina.com
Photo Credit: Alexis Silver
Lacy Rose
Lacy Rose is a New York based classically trained vocalist, composer and poet. She collaborates regularly with choreographer Coco Karol and composers Sxip Shirey, Alaina Ferris, and John K. Stone. She has opened for and performed with such eclectic artists as Cocorosie, Baby Dee, Dave Malloy, Amanda Palmer, and Osso String Quartet. In August, she made her Mostly Mozart Festival debut in the Schubertiade Remix at Lincoln Center alongside members of the International Contemporary Ensemble. As a composer of neoclassical art songs, Lacy regales her audience with tales of magic, myth, tragedy and love. Maria, her six-part song cycle, explores the inner life and personhood of Gustav Klimt's muses, Maria "Mizzi" Zimmermann and Maria "Ria" Munk. Rose composed the score for a theatrical adaptation of Dylan Thomas' screenplay, The Doctor and The Devils, and is currently adapting Clarice Lispector's The Passion According to G.H. into an opera with director Dara Malina.
Photo Credit:  Kieran White