Warm Line || Hannah Mitchell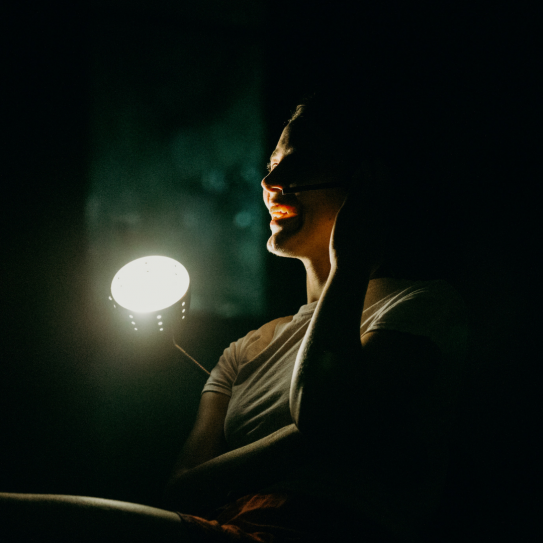 Buy Tickets
Mabou Mines Resident Artist Program, 2019
WARM LINE
Created and Performed by Hannah Mitchell
Directed and Choreographed by Lisa Fagan
SHOWINGS
May 19 at 3:30pm
May 20 at 8:30pm
ALL SHOWINGS FREE AND OPEN TO THE PUBLIC
Mabou Mines
150 First Avenue, Second Floor
New York, NY 10009
Warm-Line is a daughter's attempt to rekindle the warmth and exuberance of her mother's life. It is a foggy and laughter-rippled homage to a life lived in service of others and in search of connection, of a woman flickering on the threshold between lucidity and psychosis. Euripides' Bakkhai, Richard Simmons' Anatomy Asylum, and a non-crisis overnight hot-line in Georgia are all set ablaze in this show where ancient and contemporary griefs smolder side-by-side.
Warm-Line grapples with the legacy of suicide, and wonders how to remain close to the one who raised you when both love and pain radiate from that epicenter. What is the levity that we inherit amidst devastation? What is this belly-laugh that threads it's way through trauma and keeps us buoyant? And what is the line that can extend between two strangers, beyond blood, and keep them going through the night?
With dancers:
Nora Alami, Lena Engelstein, Meghan Herzfeld, Quincie Hydock, Gwendolyn Knapp, Shannon Spicer, Kimiko Tanabe & Joanna Warren.
Hannah Mitchell
Hannah Mitchell is an actor and theater-maker based in Brooklyn. She acts in plays and on-camera, devises original movement-theater hybrids, and creates intimate experiences for audiences of one. She has performed in such venues as The Public Theater, The Armory, Alice Tully Hall at Lincoln Center, Lewis Center for the Arts at Princeton, HERE Arts Center, The New Ohio, Gibney, Roulette, and Dixon Place, among others. She has also performed in many productions mounted in the theater of the great outdoors in locations such as the beach on Shelter Island, a bed on the Christopher Street pier, and in Madison Sq. Park with a spandex-clad commedia troupe. She earned a BA in Theater & Performance from Bard College, where she received the Don Parker prize for theater. hannahmitchell.net
Lisa Fagan
Lisa Fagan is a choreographer, director, and dancer based in Brooklyn, NY. Recent work in NYC has been presented by The Exponential Festival 2019, Ars Nova (ANT FEST 2018), New York Live Arts (2017/18 Fresh Tracks Artist in Residence), Movement Research at Judson Church, Gibney, Dixon Place, Center for Performance Research (Chez Bushwick Artist in Residence), HERE Arts Center, Roulette, Gelsey Kirkland Arts Center, BAX, and The 92nd Street Y, among others. As a performer she's landed in theaters, museums, basements, shipping crates, walls, and on the Highline without permission. Fagan is also the creator/director of CAMP: Collaborative Arts Mobility Project, an experimental summer arts residency program for artists across disciplines entering its 5th season. She has received support from The Foundation for Contemporary Art and New York Live Arts. She graduated from Bard College in 2011 where she received the Ana Itelman Prize for choreography. www.lisafagandanceproblems.com