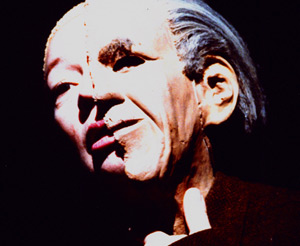 Mabou Mines' residency program was born in the late 1970s in a basement on St. Mark's Place. Re.Cher.Chez, as the program was then known, began as free weekly classes run by Ruth Maleczech, Lee Breuer and Bill Raymond. It was a true theater laboratory, fully dedicated to experiments with new theatrical ideas. "We taught a no-man's land between experimental theater and performance art," remembers Lee Breuer. "We were open 24 hours. We had an amp, a little playback deck, and a few lights. Amazing people came through the doors: Anna Deveare Smith, Oskar Eustis, Dan Hurlin." Liza Lorwin, who later became an artistic collaborator on many Mabou Mines projects, joined as Executive Director during this time.
The program came to an end in the mid-80s, but was reborn in 1991 in Mabou Mines' studio, at The 122 Community Center, ToRoNaDa. The name may be understood as Maleczech's pidgin shorthand for "no bull"; its capitalized consonants acknowledge the significant contributions of administrator Tony Vasconcelos, actors Ron Vawter, David Warrilow and visual artist Nancy Graves. The residency program was renamed Mabou Mines/Suite, to capture the notion of one thing following another with purpose.
It is worth noting that the first artist appointed to Mabou Mines/Suite is now Director of the MFA program in Theatre Arts at Towson University in Baltimore. The second appointee, playwright Lynn Nottage, was recently granted both a MacArthur Award and the 2009 Pulitzer Prize for Drama. Our alumnae also include the playwrights: Tanya Barfield, CJ Hopkins, Carsen Kreitzer and Adam Rapp; Renee Philippi, artistic director of the Concrete Temple Theater, and choreographer Dawn Saito.
"There's certainly been no intention of handing down any kind of Mabou Mines aesthetic. We just look and critique," insists Breuer. The company conscientiously matches mentor with artist(s) based on ideas and affinities evident in the work samples submitted. Says Sharon Fogarty, "It's basically a red envelope with some respect in it."
Mabou Mines/Suite Alumni
2015-2016 Resident Artists:
ALANNA COBY and MEGAN HANLEY – GRACEFUL EXIT tells the story of a 70-year old woman entering the absurdist hospice that gives the play its name, while its secondary story centers on a marine biologist mourning a beached whale named Louisa May Alcott. Unfolding through a series of short scenes, song-and-dance numbers, scientific lectures and stand up routines, Graceful Exit is a darkly comedic variety show that asks "Who controls your death?" Conceived and written by Alanna Coby, with direction by Megan Hanley, music by Sean Vigneau-Britt, and developed in collaboration with ensemble theatre company, The Syndicate.
CHONGREN FAN – THE KINDNESS PROJECT examines the evolution, good or bad, of "kindness" in China from early 20th century to today. The fictional story will be created based on true events told by different generations from those whom have experienced social political shifts during the 20th century to those who have only lived in the glamorous economic powerhouse. The project is a meditation of how the change of kindness affects traditional value, belief system and daily human interactions. Multimedia will be used as a vibrant character in the story telling.
COLETTE ROBERT – UNTITLED BLACK DEBUTANT BALL PROJECT – By recreating a New Orleans black debutante ball as an immersive theatrical event, this project will explore the history and language of "presenting" black female bodies. A company of black female artists will use music, movement, and text to transform a coming-of-age ritual into a personal and political piece of theatre.
JON LEVIN & JOSH LUXENBERG – OCEAN – On a spaceship orbiting an unusual planet, a team of scientists attempts to understand a vast and terrifying alien intelligence. This original theater piece will immerse the audience in a tense and unsettling world, using dance, physical theater, and an endlessly reconfigurable playing space. Following up on its acclaimed 2008 production There Will Come Soft Rains, Sinking Ship Productions continues its exploration of science fiction on stage.
IAMABOYSCHOIR – THIS IS A PLAY BY JANE AUSTEN – An exploded version of all things Jane Austen that engages audiences in thinking about gender and class. We are stealing this iconic piece of heterosexual Western culture, appropriating it for the queer world, and using it to indulge and undermine the structures it is used to uphold. We aim to claim the characters who champion rigid gender roles for the darkness; after all, what is more queer than the self aware performance of gender? (Kate Attwell, Adam Rigg, & Chris DeVita)
KATE BREHM – THE DISCREPANCY – Featuring a lone human performer against a tide of geometric performing objects and a chorus of indifferent puppeteers, The Discrepancy submerges the audience in a series of meditations about our dependence on technology, the allure of blind faith, and the question of whether participation is even a choice. (with Amanda Friou & Sarah McMillan of imnotlost)
NELSON EUSEBIO – UNTITLED BALCONY ADAPTATION • A trans-media adaptation of Jean Genet's play, The Balcony. The residency will be used to develop a performance script through devised physical theatre techniques, music, filmmaking, and social media. The goal for the residency is to create a fully developed script with a small company of artists consisting of a composer, designers, actors, and filmmakers.
NICOLAS NOREÑA – (8) MEMORIES OF THIS ATLANTIS, OR NO PLACE – A theatrical fugue for two actors that loops until every audience member, at their own will, leaves the theater. The piece explores lost memories, spaces that live around us like invisible visitors, the cycle of conception-birth-growth-decay-death-and-decomposition, the division of the sexes, and a binary physicality of angles and curves. Directed by Nicolas Noreña and created with Timothy Scott and Erin Mullin.
RACHEL KARP – LET'S MAKE A LIL' HUMAN THAT LOOKS LIKE YOU AND ME – In 1920, Karel Čapek wrote the play R.U.R., in which human-made robots take over the world and humans stop making babies. Almost 100 years later, Let's Make A Lil' Human That Looks Like You And Me examines current trends in humanoid robotics and human population. Science, sex, and classic Eastern European theater combine in an effort to understand what labor and life mean today.
TANYA MARQUARDT – SOME MUST WATCH WHILE SOME MUST SLEEP – is a chamber work for a performer, an iPhone, and a noise artist. The piece explores the world of sleep talking and what happens when your 'waking self' and 'sleeping self' meet, dialogue, and maybe even heal. Based on nightly recordings of sleep talking, Some Must Watch While Some Must Sleep is choreographed and performed by Tanya Marquardt and created with Stephen O'Connell (Bluemouth Inc.), Ellie Heyman, Emma Ruveria, and Omar Zubair.
2013 -2014 Resident Artists:
ARIEL STESS
THE CROWN HEIGHTS PROJECT To create a script that deals with the joy surrounding tradition and the tension surrounding gentrification of her neighborhood, Crown Heights, Brooklyn. This neighborhood was the scene of unrest, brought on by racial tension, in the early 1990's. She will create this script by conducting interviews with neighborhood residents.
KATHARINE SCARBOROUGH
MYTH KEEPER How does a family's truth get stretched beyond recognition? Must we become our stories or can we change them? These are the questions explored in a documentary-fantasy play-opera based on my father's struggles. Structured around the classical Hero Cycle, excerpts from 20 years of letters will be sung in original operatic arias, ancient myths and traditional and neo-fairytales explored using mask and puppetry, and the underlying story of one family's crisis staged to represent a harsh and contrasting reality.
GARDINER COMFORT
UNTITLED This new project will be a personal expression of my experience with Tourette Syndrome, using my unique physical skills (dance, athleticism, stage combat), original text, and acting to present a new and original approach to the solo show.
NEW SALOON
VANYA New Saloon carves, annotates, and upends Anton Chekhov's oeuvre to create a new play. Multiple translations of Uncle Vanya play at once; instances of drunkenness, love, and despair are mashed together in rapid-fire catalogs; Chekhov's dialogue is stripped down to redundancies: "I'm thirty-five and already worn out," "You're sixty years old, medicine won't help," "I'm twenty-four, I've been working all this time, and my brain has shriveled up." Stage directions, taken alone, become a different genre: "(Weeps) (Tenderly) (Trembling) (Furious) (Weeps)." Problems that faced the collapsing Russian gentility of the late 19th century feel spookily relevant to twenty-somethings today.
STEPHANIE HAYES & EMILY REILLY
THE INHERITANCE LAB is a space for international and interdisciplinary research. This laboratory will develop a methodology that is grounded in the idea of inheritance as a practice. Our aim is to hone a map for group training that encourages visceral response over text based or linguistic communication.
PAULINA BARROS
THE COMFORT OF NUMBERS Taking the intersection of different and often distant worlds as the outset, this project strives to create a bridge between science and art, explore the boundaries between one artistic discipline and another: sound, music, dance and theater, and touch upon intercultural relationships. The comfort of numbers is about interconnectedness; about our personal relationships with others, with reality and with life. Playing with perception and proportion, the very small; such as subatomic particles, our individual tragedies and miracles is contrasted with the very big; the universe, Love and Death.
ZILVINAS JONUSAS
THE CASTLE (working title) Suicide is a funny thing. Add to it Franz Kafka and Virginia Woolf and it's hilarious. The Castle (working title) is an original work developed for stage. The play is inspired by Kafka and Woolf's lives and works. It is a second installment in the series of performances called "The Inconvenient Suicides" which explores the absurdity of suicide.
EMMA WISEMAN
ANOTHER LONELY ASTRONAUT is a work of puppetry, voice and movement that takes a quirky and meditative look at space travel.It is the story of an astronaut who blasts off from Earth and her explorations of a new alien planet. Futuristic images and subject matter are juxtaposed with old-time songs and shape note ballads performed live, evoking both the majesty of outer space and a space explorer's personal nostalgia.
ZAINAB MUSA
ENOUGH is a solo inquiry into the impact of pop cultural stereotypes of blackness. After certain experiences navigating an acting career in mainstream film and television, I came to observe my proficiency at passing and code switching as a means of social/career survival. Deciding when to "act black" or call upon certain behavioral mannerisms invited me to examine how much conscious influence over perpetuating stereotypes do African American women poses? In this iteration I am searching for a performance style that poses these questions to an audience in a way that may stimulate self- implication. This is a multi discipline work in progress.
SOOMI KIM
TESTING TESTING will be a dance theatre work that will extract fragments of text, song and sound bytes from recording sessions by famous artists. Actor/dancer Soomi Kim and dancer Mark Taylor dissect and craftily assemble 2 pieces of work that explore conversations and the unplanned verbiage — from the ridiculous to the profound moments and the space in between, during recordings by celebrity artists. These pieces discover and uncover the fine line of brilliance and absurdity that celebrities experience in their lives and artistic process.
THE 2012-13 RESIDENT ARTISTS:
JENNIFER H. NEWMAN
THE GENEVA PROJECT Director: Charlotte Brathwaite, Created and Performed by: Jennifer Newman Composer: Justin Hicks, Poetry: Chris Meyers, Projection Design: Sarah Lasley An interdisciplinary dance work exploring history, blood memory and the traces of an ancestral past. Searching the FSA archives of the Library of Congress, Ms. Newman discovered photographs of her great-aunt, Geneva Varner Clark, and her family on their farm in Depression-era South Carolina. Described as "negro", "mixed race" and as "Indian", the photographs, taken by New Deal photographer Marion Post Wolcott, helped re-define "Americanness", by giving face to people often marginalized by racial classifications. In the piece, visual imagery, language, and sound are collaged with the corporeal, creating conduits for connecting the past to a contemporary reality. Working in collaboration, Ms. Newman examines, through the multiple realities proposed by photographs, what is hidden and what is revealed, by bringing light to that which was once buried.
The Geneva Project was created in part through The Field's Emerging Artist Residency program, supported by Lambent Foundation Fund of the Tides Foundation.
ANDREA THOME
THE NECKLACE OF THE DOVE Writer: Andrea Thome, Director: Lisa Rothe, Music: Amir Khosrowpour The world of 21st-century immigrant, transsexual women in Queens intersects with the 11th-century love stories of Arabic-Spanish philosopher Ibn Hazm. Through text, music and movement, these refugees from different eras travel between languages, genders and ways of loving – enacting their own Reconquista and reclaiming a pluralistic world.
JONATHAN VANDENBERG/ASHES COMPANY
THE KINGDOM Conceived & Directed by Jonathan Vandenberg – A non-devotional theatre piece encountering Judeo-Christian mythology. A fragmented narrative reverberates with echoes of Genesis, destruction of the First Temple, and a messianic figure. The tradition's cycles of appearance / negation explore the crisis of form: the impossibility of containing what is infinite within word, image, or body. More than a theological problem, this is a universal query. Almost entirely without spoken text, the production is comprised of actions, design elements, and presence.
Info: www.ashescompany.org
SETH POWERS
MONEY THINKS I'M DEAD Conceived by Seth Powers, Choreography by Christiana Axelsen, Developed with Heather Hollingsworth Music direction by Michael Fraioli and Seth Powers – A Great American Musical reimagined in silence, rigor, and bare necessity. This choreographic theatre resituates a commercial classic on the outskirts of post-war American culture, taking the work of Merce Cunningham, Mary Caroline Richards, Charles Olson, and other Black Mountain artists as a point of departure. The sentiment and corniness of the original production collide with the clinical, denaturing, liberating art forms of the American avant-garde of the same era, sparking a synergy of voice and body in which abstraction and intimacy can no longer be reliably told apart. The fishing outpost of Gloucester, Massachusetts is the ideal site for this secondhand story of America to be told anew, as Broadway finally meets Black Mountain.
2011-2012 RESIDENT ARTISTS
MEG GIBSON
EXIT INTERVIEW Meg will be creating a piece on Jane Jacobs, the activist and grass roots urban planner. Jane Jacobs lead the fight to save the West Village in Manhattan, Washington Square Park and stopped LOMAX (lower Manhattan expressway) from crossing through SOHO and Little Italy.
MARC WOLF
THIS BLESSED PLOT Conceived and Written by Marc Wolf and Robert Westfield – From the Roman Forum to Zuccotti Park… Wolf and Westfield take the battle of Central Park, fought between Robert Moses and Joe Papp in 1959, to explore the never-ending struggle over Public Space.
LEONORA LOEB
BLIND SPOT Conceived and Created by Leonora Loeb – A presentation of a series of videos and projections that collage urban images. This installation chashes scale- from diorama to larger than life- where inauthentic documentation reveals traces of a workspace's history of ideas.
SARAH PROVOST
ELECTRIC BATHING Conceived and Created by Sarah Provost and Lake Simons: Coney Island circa 1910. Two garment factory workers escape from respectability into a world of fantasy where shirtwaists become kites, fans transform into seagulls, hatboxes are rides, spools of thread are anchors, and ropes are the ocean tide
2010-2011 RESIDENT ARTISTS
MALLORY CATLETT
VANYA REVISITED Through the filter of sleep research and a Proustian formulation of memory and forgetting Catlett has dismantled and reconstructed Chekhov's play, Uncle Vanya. The central conceit of Vanya Revisted is that it takes place years after the end of Chekhov's play, probably after the revolution. Only 4 characters remain — Vanya, Sonya, Yelena and Astrov. Much older, they live in a state of disarray. Part intervention, part re-enactment, the events of the play unfold as the characters reconstruct the past in a last ditch effort to alter the outcome.
MATTHEW PAUL OLMOS
THE NATURE OF CAPTIVITY A two-part play inspired by "Dog Catcher Riots". During this residency, Olmos will explore Part II of this piece, which focuses on the 'captors'… and is a comedy.
DANIEL IRIZARRY
CHO H CHO is an original theater collage, which explores and observes the culture of consumption and the new set of values that are being harvested in our globalized World. Cho H Cho questions, but avoids, a fatalistic view of the World: Are we destined to self-destruct? Can we transcend to a new level of sophistication and sensibility? Is it possible to reach happiness without the idea of a God and the after-life? Are we capable of sacrificing individual wealth for the wellbeing of all? Inspired by the Dada movement and Artaud's 'Theater of Cruelty' Cho H Cho is a potpourri of events expressed with Love and Violence. Performers: Laura Butler, Daniel Irizarry, and surprise guests. Conceptualized by: Laura Butler and Daniel Irizarry Directed by: Daniel Irizarry
KRISTI SPESSARD
ESSENTIALS OF FLOR is an original retelling of the Persephone / Demeter myth. In this dance – theater work, Greek myth and the Victorian Language of Flowers, a 19th Century pastime of sending complex secret messages through bouquets called tussie mussies – CLASH in order to magnify the fate between the human and plant worlds. Our story is told through the performance of 5 characters: Hades, Narcissus; Persephone, Demeter and Flor, the heroine of the work. Flor's world is an entanglement of ephemeral relationships and her flower shop serves as the locale for action, which teeters between present day and her imagination. Believing she is Demeter, plucked by Hades each autumn to spend time in the underworld, the dance story unfolds to create it's own urban myth of cycles, estrangement and rebirth.
2009-2010 RESIDENT ARTISTS
MALLORY CATLETT
VANYA REVISITED
Through the filter of sleep research and a Proustian formulation of memory and forgetting Catlett has dismantled and reconstructed Chekhov's play, Uncle Vanya. The central conceit of Vanya Revisted is that it takes place years after the end of Chekhov's play, probably after the revolution. Only 4 characters remain – Vanya, Sonya, Yelena and Astrov. Much older, they live in a state of disarray. Part intervention, part re-enactment, the events of the play unfold as the characters reconstruct the past in a last ditch effort to alter the outcome.
KEVIN DOYLE
ASYLUM, ATM, CONSOLIDATION
Writer Kevin Doyle is developing of a series of plays for interdisciplinary theatre that examine how Americans are coping with the ongoing financial crisis. The plays are a fusion of two dramaturgical styles that emphasize both "found-texts" and original writing, while employing the usage of live cameras and stylized physicality during performance. These plays are: ASYLUM, in which an American family experiences the breakdown of the American dream in specific terms; ATM, in which New Yorkers' interactions with the city's homeless population express a shift in demographics and values; and CONSOLIDATION, in which a North American Soccer Mom finds herself stuck inside a car dealership for all time. One of the plays will be completed and presented as a staged reading at the conclusion of the residency.
AMPARO GARCIA-CROW
STRIP
When the infamous Texan, burlesque dancer Candy Barr, died in the late 1990s, the New York Times wrote that Miss Barr, like Lenny Bruce, was a "subverter of official morality." STRIP, a burlesque musical, being written and developed by Amparo Garcia-Crow, takes both of these iconic figures – Lenny B. as the M.C. (who likes to think of himself as a Hal Holbrook-like Stage Manager) and Candy B. as the headliner (who'd rather be the town librarian) – to tell a dual narrative about trying to make a buck in the burlesque world without losing your soul. The story begins at a time when Texas was still the largest state in the union and The National Organization for Decent Literature was putting pressure on bookstores and enlisting local police to threaten booksellers too slow to 'cooperate' in removing from their shelves such filth spreaders as Hemingway and Orwell. Meanwhile "back at the strip show," as our M.C. puts it, "I knew that according to all true Christian standards, nudity in itself was certainly not lewd, but burlesque – with its "subtle" charades of grabbing, "floorwork", pulling and touching – was lewd. Lewd in the sense that there was a woman on the stage whose chief aim was to get the audience horny."
DANIEL KWIATKOWSKI
THIRST
A story of two people living in isolation. One is a woman who has made the ultimate sacrifice for her own survival. The other, a young man who abandoned his mother and the guilt that now drives him to find another. When the two finally meet the isolation only grows and the consequences of their actions begin to haunt them. What happens when the needs of one transform another? This is a story about hearts and stones. It is a story about blood and feathers, soil and clay. This is a story about thirst.
ERIC LOCKLEY
WITHOUT TRACE
In association with members of The Movement Theatre Company
Without Trace is a drama that uses one family's chilling experience, the disappearance of their son, to investigate the black male psyche, the American Dream and notions of performance in relationship to race. The play is being developed within the frame of a family drama that takes place amidst an American crisis. The country finds itself in a Race War, and as trust within communities becomes strained, the future seems bleak, but a lost sons return may signal a new beginning or the beginning of the end.
YIN MEI DANCE
CITY OF PAPER
In collaboration with Sang Jijia – A new evening-length dance theater work explores a Wayang-like shadow world in which light, sound, paper, masks and movement converge in a post-modern meditation on history, fact and the mutability of human perception. Set in a digitally interactive scenographic environment, the work weaves together personal vignettes, audio/visual fragments, a complex musical soundscape and abrupt yet sensuous movement, to create a dream landscape from which the events of a single momentous year in the Chinese Cultural Revolution gradually emerge.
The thread holding these multifarious elements together lies in the nature of paper itself – its transformative essence . . . light … its capacity to open doorways between worlds . . . its ability to communicate . . . its ability to lie. Chinese writing, or calligraphy, is thus both conceptual frame and artistic device in this work, as a digitally interactive paper stage environment becomes the scroll upon which Yin Mei and Sang Jijia, using both electronic sensors and their own bodies, "re-write" a difficult personal history.
SHIRA MILIKOWSKY
THE JOE ORTON PROJECT Conceived with Satya Bhabha – A multi-media performance based on the life, work, and death of English playwright Joe Orton. One actor plays many characters, including both Joe Orton and Kenneth Halliwell, Joe's long-time lover, sometime collaborator, and ultimate murderer. Using video and live sound manipulation the piece explores themes of doubling and separation, especially in light of Joe and Kenneth's "us-against-the-world" relationship. At a time when concepts of rebellion were resonating with youth culture across the western world, Kenneth and Joe were original cowboys. Their rage against the universe inevitably turned on each other, but it was never wholly separate from the world in which they were trying to live. John Lahr describes Orton's connection to the 1960's counter-culture in his introduction to The Diaries, "Orton's plays caught the era's psychopathic mood, that restless, ruthless pursuit of sensation whose manic frivolity announced a refusal to suffer."
MATTHEW PAUL OLMOS
THE NATURE OF CAPTIVITY Developed in collaboration with the theatre company woken'glacier.The piece is inspired by the "Dog Catcher Riots", about a wave of human progress washing over an indigenous society causing the only remaining native family to fight back against their oppressors. Told in two parts, Olmos and company will be exploring the physical'life of part one, in which the actors will inhabit various forms of movement, including: Viewpoints, Suzuki, Martial Arts, and animal work. At the same time they will workshop part two, which explores the human (or captor) side of captivity.
ROYAL LACE PAPER WORKS
THE RV PARTY Jake Margolin and Chantal Pavageaux – In the RV Party, a couple who doesn't know each other very well drives across the country in an RV, fleeing a hometown catastrophe, hoping to run into the American Dream. Meanwhile, in the RV Party, a girl in a bee suit explains the self-organizing, emergent structure of ant colonies and the complex interactions of meta-social systems such as the stock market.
TAAVO SMITH
UNTITLED – "The earth is extinguished, though I never saw it lit."What, while we wait for our lives to begin, as we wait for our lives to end? Games, booze, grief, fantasy, and futile gestures toward romance – the sad, silly heroism of the end of things. A vigorous dual adaptation of Anton Chekhov's Uncle Vanya and Samuel Beckett's Endgame.
2008-2009 Resident Artists
MARNI RICE
Marni Rice is a chanteuse, theater artist and accordionist whose repertoire embraces vintage French chansons, European art songs from the 1920s, 30s and 40s, and her own original music. Songs of an Immigrant: Tales from Paris is an autobiographical work based on her years in Paris and the so-called "Chansons Réalistes" of the 1930s associated with Piaf, Fréhel and Damia. It is a merger of tragic songs, comic stories and her New York style of performance. She will be at the Tokyo and Kyoto Fringe Festivals in spring 2009. She will premiere a French language adaptation at the Festival D'Avignon in summer 2009.
ANONYMOUS ENSEMBLE
Anonymous Ensemble is a Brooklyn-based troupe of theatre artists, musicians, dancers and technicians. AnEn cultivates a rock show dynamic between performers and audience, using elements of rock and electronica, live video manipulation, web based media, dance, circus and drama. Focusing on the often violent over-sexualization of women in wartime, Troop Troupe is a satiric exploration of the dynamics of performance, military culture and gender and takes its form from USO shows.
KATT LISSARD & MEMORY LAB
Katt Lissard is a writer, playwright, teacher and the artistic director of the Winter/Summer Institute. A one-woman show performed by six actors, Outpost is presented as an interrupted letter home from Lesotho in southern Africa, one of the planet's remaining "unique and distant" places, with appearances by the U.S. Ambassador, the Unabomber and the Venus Hottentot.
MARIANA CARREÑO KING
Mariana Carreño King is a freelance writer and playwright, actress, director and translator. Her play, Ofelia's Lovers, takes place in Lisbon as Ofelia Queiroz courts the great 20th century Portuguese poet Fernando Pessoa in the shadow of his many celebrated sub-personalities.