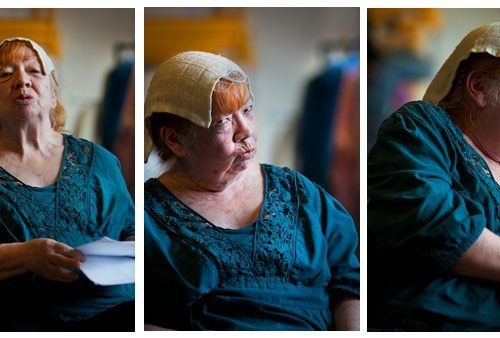 Ruth Maleczech (January 8, 1939 – September 30, 2013)
A founding Co-artistic Director of Mabou Mines, Ruth Maleczech collaborated on almost every piece that the company created from 1970 until her death in 2013. For Mabou Mines, she directed six works: Wrong Guys, adapted from the novel by Jim Strahs, which was presented at the Public Theater and for which she received a Villager Award for Direction;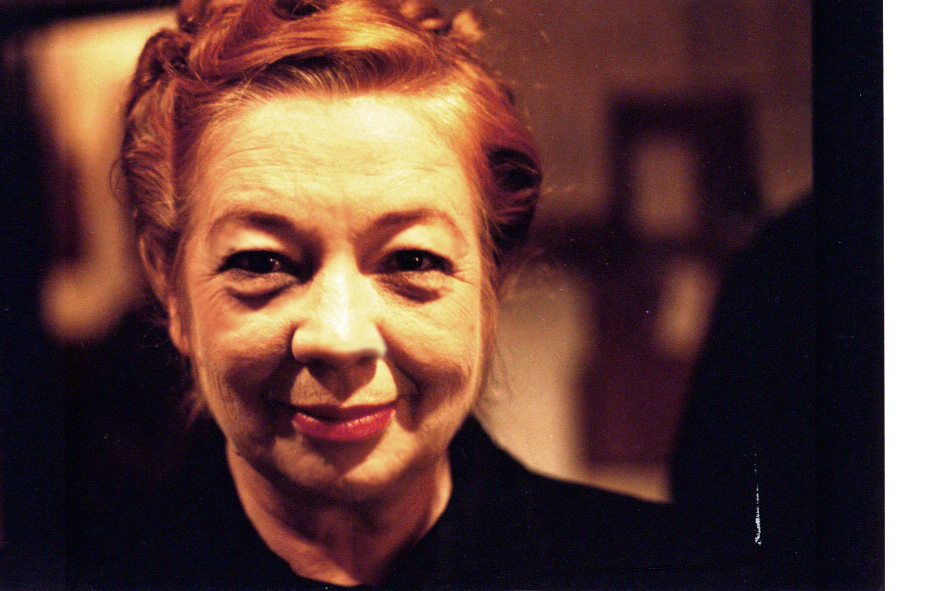 Vanishing Pictures, which investigated the confluence of the writing of Edgar Allan Poe, the music of Eric Satie and the technological break-through of black and white photography, for which she received an OBIE Award for Design (shared with Julie Archer); Samuel Beckett's Imagination Dead Imagine, which she conceived as a large-scale hologram with a recorded narrative; The Bribe by Terry O'Reilly; Sueños, a music theater work, assembled by Ms. Maleczech, from the letters and poems of Sor Juana Inez de la Cruz; the OBIE award-winning Belén: A Book of Hours, a music theater work, performed in Spanish and English, that captured the voices of women locked in the Mexican institution Belén, from its time as a church-run "sanctuary" for single women through its transformation into the most notorious prison in Mexico; and Song for New York, a site-specific, music theater work which was presented free to the public from a barge on the waterfront at Gantry Plaza State Park in Long Island City. She was working on Imagining the Imaginary Invalid an adaptation of Moliere's play when she died.  
She received numerous awards for performance, including three OBIE Awards. Other roles with Mabou Mines include Winnie in Happy Days; Madame Curie in Dead End Kids; Mae Garga in Bertolt Brecht's In the Jungle of the Cities; the title role in Mother by Patricia Spears Jones; and Rose in An Epidog and Ecco Porco, Sri Moo in Summa Dramatica by Lee Breuer; The Mother in Red Beads by Lee Breuer and based on an original story by Polina Klimovitskaya; and Lucia in Lucia's Chapters by Sharon Fogarty.
Outside of Mabou Mines, Ms. Maleczech created, with Valerie Vasilevski, Fire Works. She collaborated with JoAnne Akalaitis on a stage adaptation of Jean Genet's Prisoner of Love. Also outside of Mabou Mines, she performed roles such as: Sorrow in Peter Sellar's production of Zangesi; Life and Fate, directed by Fred Wiseman; the Mother in The Screens, directed by JoAnne Akalaitis at The Guthrie Theatre, Minneapolis; Mistress Quickly in Henry IV, Parts I and II and The Grandmother in Woyzeck, both at The Joseph Papp Public Theater; as Winnie in Happy Days, at The La Jolla Playhouse and as one of the leads in Charles Mee's First Love, at New York Theatre Workshop; as La Goulue in
Martha Clarke and Charles Mee's Belle Époque at Lincoln Center. She has appeared in numerous feature films, both independent and studio productions, including Angela and The Crucible. On television she has appeared in ER and Law and Order.
Ruth Maleczech has been the recipient of: A 2010 Gracie Fellow from United States Artist, a 2009 Foundation for Contemporary Arts Award, a New York Foundation for the Arts Fellowship; The Zeisler Award from Theater Communications Group; a PEW/T.C.G. National Theater Artist Residency Fellowship; a Mexico/US Cultural Exchange grant for study and work in Mexico; a Fox Foundation Fellowship for research on the life of Lucia Joyce, in preparation for Lucia.  She has been cited for her influential and pioneering role in experimental theater by the Republic of Egypt, Ministry of Culture. Ms. Maleczech has been named a Distinguished Artist by the National Endowment for the Arts, and (posthumously) 2014 Off Broadway Alliance: Off Broadway Hall of Fame. 
"The Ruth Maleczech Award" was created in her honor, a no-strings-attached cash award granted by Mabou Mines together with Ruth's family, Clove Galilee and Lute Breuer. The awardee is selected through a nomination process and is given annually to a performer who embodies Ruth's daring and raw, naked, fearlessness in every performance.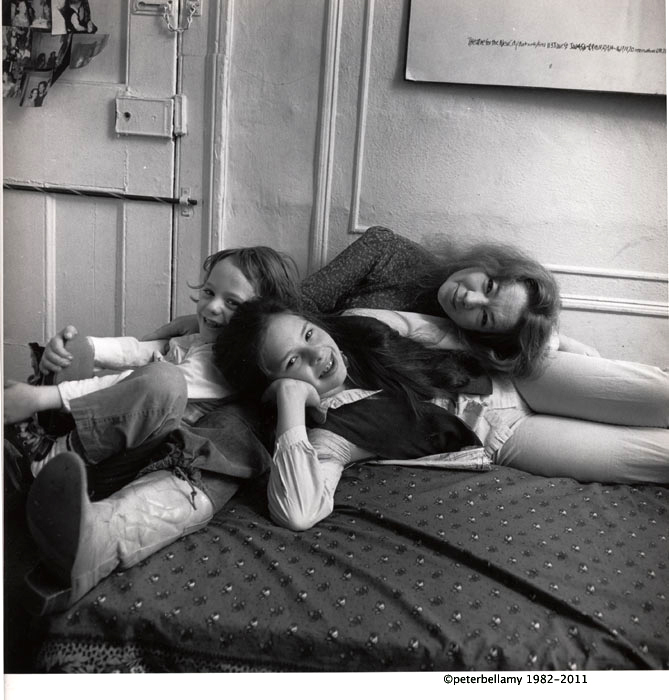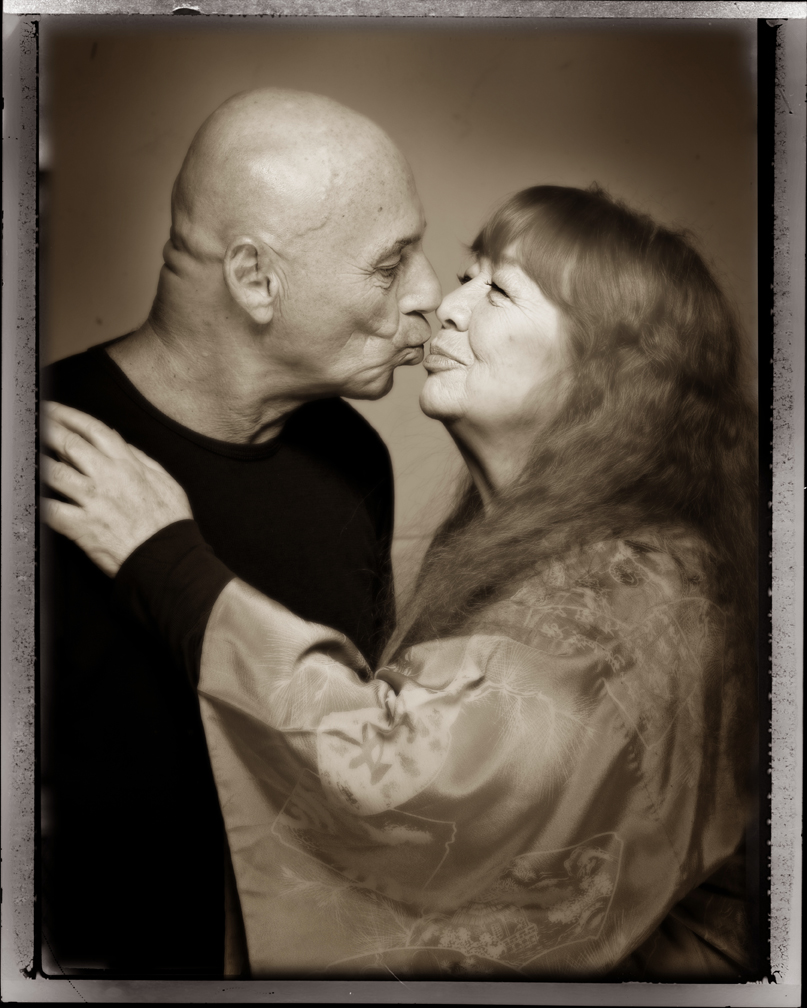 WORK HISTORY
DIRECTION/ADAPTATION
Song for New York (by: Kandel, O'Reilly, Cruz, Jones, DuBris), Mabou Mines 2007
Belén: A Book of Hours (by C. Sasanov) Mabou Mines 1999
The Bribe (by Terry O'Reilly) Mabou Mines 1993
Sueños (adapted by R. Maleczech) Mabou Mines 1987
Imagination Dead Imagine (by S. Beckett) Mabou Mines 1984
Wrong Guys (by J. Strahs) Mabou Mines 1981
Vanishing Pictures (adapted by B. Brown) Mabou Mines 1980
Fire Works (Dir. with Valeria Vasilevski) 1987
PERFORMANCE (with MABOU MINES)
Moliere, Imagining the Imaginary Invalid also dir. Workshops 2012, 2013
Sri Moo Parahamsa, Summa Dramatica, dir. Lee Breuer 2009
Lucia Joyce, Lucia's Chapters, dir. Sharon Fogarty 2007
The Mother, Red Beads, dir. Lee Breuer 2005
Lucia 1976, Cara Lucia, dir. Sharon Fogarty 2003
Midnight Rose, Ecco Porco, dir. Lee Breuer 2001
Rose The Dog, An Epidog, dir. Lee Breuer 1995
Old, Reel to Real, dir. Frederick Neumann 1994
The Mother, "Mother", dir. John E. McGrath 1994
Mae Garga, In The Jungle of Cities, dir. Anne Bogart 1991
Lear, Mabou Mines Lear, dir. Lee Breuer 1990
The Agent, It's A Man's World, dir. Gregory Mehrten 1985
Annette, Through the Leaves, dir. JoAnne Akalaitis  1984
Curator, Cold Harbor, dir. William Raymond 1983
Solo, Hajj, dir. Lee Breuer 1983
Madame Curie, Dead End Kids, dir. JoAnne Akalaitis 1980
Rose, The Shaggy Dog Animation, dir. Lee Breuer 1978
Dressed Like an Egg, dir. JoAnne Akalaitis 1977
Chorus, The B. Beaver Animation, dir. Lee Breuer, 1974, 1990
Music for Voices, Philip Glass 1972
Woman, Play, dir. Lee Breuer 1971
Vi, Come and Go, dir. Lee Breuer 1971
LifeLine, The Red Horse Animation, dir. Lee Breuer 1970
OTHER NEW YORK THEATER:
La Goulue, Belle Epoque, dir. Martha Clarke, Lincoln Center Theater 2004
Edith, First Love, dir. E. Mee, NY Theater Workshop 2001
Lady Wishfort, The Way of the World, dir. D. Greenspan, Public Theater 1992
Mistress Quickly, Henry IV, Part I & II, dir. J. Akalaitis, Public Theater 1991
Grandmother, Woyzeck, dir. J. Akalaitis, Public Theater, 1992
Sorrow, Zangezi, dir.Peter Sellars, Brooklyn Academy of Music (BAM), 1987
Solo, Prisoner of Love, dir. J. Akalaitis, NY Theater Workshop 1995
INTERNATIONAL/REGIONAL THEATER:
The Grandmother, The Children of Heracles, dir. P. Sellars, 4-city European tour 2003
Winnie, Happy Days, dir. R. Woodruff, La Jolla Playhouse 1996
The Mother, The Screens, dir. J. Akalaitis, Guthrie Theatre 1989
Solo – "Mama", Life and Fate, dir. Frederick Wiseman, A.R.T., Boston 1988
Sorrow, Zangezi, dir. P. Sellars, MOCA, L.A. 1987
Katrin, Mother Courage & Her Children, Paris Studio Theatre 1969
Artaud's Viewpoint, The Messingkau Dialogues, Traverse Theater, Edinburgh 1968
Play (W 1) *, American Cultural Center, Paris 1967
Lula, Dutchman, Theatre de Poche, Paris 1967
The Girl, Telemachus Clay, Studio Theatre of Paris 1966
Developed & performed original & Commedia dell Arte works, San Francisco Mime Troupe 1961-64
Countess Geschwitz, Lulu, The Playhouse, San Francisco 1964
Asa, The Run, San Francisco Tape Music Center 1964
Solange, The Maids, San Francisco Tape Music Center, 1963
Martirio, The House of Bernarda Alba, San Francisco Actors' Workshop, 1963
The Medium, Rashomon, The Interplayers, San Francisco 1962
Event for Actors, San Francisco Tape Music Center 1962
Dame Pliant, The Alchemist, San Francisco Actors' Workshop 1962
Ballad Singer's Wife, Galileo, San Francisco Actors' Workshop 1961
Emily, Our Town, The Interplayers, San Francisco 1960
FILM:
Goody Osborne, The Crucible, dir. Nicholas Hightner, 20th Century Fox, 1996
Woman at Subway, Sleepers, dir. Barry Levinson, Propaganda Films, 1996
Sandman, dir. Marco Capalbo. 1996
Basquiat, dir. Julian Schnabel, 1996
Sleepwalker, Angela, dir. Rebecca Miller, 1995
Shopkeeper, Ballad of Little Jo, Maggie Greenwald, 1993
Mac, dir. John Turturro, 1992
Cynthia, In the Soup, dir. Alex Rockwell, 1992
The Cabinet of Dr Ramirez, dir. Peter Sellars, 1991
Black Holes, dir. Don Scardino, 1988
Gloria, Anna, dir. Yurek Bogayevicz, 1987
Mrs. Malone, C.H.U.D., dir. Douglas Cheek, 1984
Marie Curie, Dead End Kids, dir. JoAnne Akalaitis, 1986
Anna Walentynowics, Far From Poland, dir. Jill Godmilow, 1984
Eleanor, Strong Medicine, dir. Richard Foreman, 1979
The Double, Coup-Age, French Independent Film, 1969
TELEVISION:
Law & Order: Criminal Intent, NBC, 2004
Law & Order, NBC, 2003
E.R., NBC, 1997
Subway Stories: Fern's Heart of Darkness, dir. Patricia Benoit, HBO, 1997
Urban Anxiety: 7 Out Of 7, series dir. Bob Balaban, Fox, 1997
Darrow, PBS, 1991
The Street, dir. Robert Altman, 1985
RADIO:
The Mist, dir. Bill Raymond, NPR , 1983
The Joey Schmerda Story, dir. Bill Raymond, NPR, 1982
The Android Sisters 1982-2006
The Ruby Series, dir. Tom Lopez, NPR, 1982-present
AWARDS
OBIE AWARDS:
Best Performance, Lear, 1990
Best Performance, Hajj, 1983
Best Performance, Through the Leaves, 1984
Best Design (shared with Julie Archer), Vanishing Pictures, 1980
Sustained Achievement, Mabou Mines, 1986
VILLAGER DOWNTOWN THEATER AWARDS:
Best Solo Performance, Hajj, 1990
Best Director, Wrong Guys, 1981
Best Director, Vanishing Pictures, 1980
Best Ensemble, Shaggy Dog Animation, 1978
NEW YORK FOUNDATION FOR THE ARTS: Performance Art / Emerging Forms, 1981
FESTIVAL DU THEATRE DES AMERIQUES/MONTREAL: Best Performance, Through the Leaves, 1985
BOSTON GLOBE: Best Solo Performance, Life and Fate, 1988
ZEISLER AWARD (TCG) For Contributions to the American Not-for-Profit Theater, 1989
NATIONAL ENDOWMENT FOR THE ARTS: Distinguished Artist Fellowship, 1991
PEW CHARITABLE TRUST: National Theater Artists Residency Fellowship at New York Theater Workshop, 1992-94
FOX FOUNDATION FELLOWSHIP: For research into the life of Lucia Joyce, 2000
U.S./MEXICO EXCHANGE: Exchange Fellow, 1996
SPENCER CHERASHORE AWARD: For Lifetime Dedication to Not-For-Profit Theatre, 2001
CAIRO INTERNATIONAL FESTIVAL FOR EXPERIMENTAL THEATRE: Certificate of Outstanding Merit for her "influential, pioneering role in experimental theatre," 2006
EDWIN BOOTH AWARD: To the Artistic Directors of Mabou Mines for contributions to theatre, 2007
FOUNDATION FOR CONTEMPORARY ARTS Fellowship in Theater Arts, 2009
UNITED STATES ARTIST AWARD – Gracie Fellow, 2010
OFF BROADWAY ALLIANCE: OFF BROADWAY HALL OF FAME, 2014 (posthumously)