2017 RUTHIE Award Winner: Black-Eyed Susan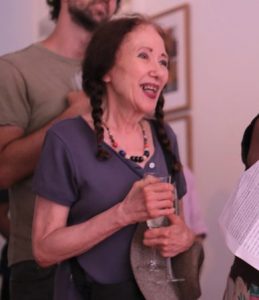 This year's "Ruthie" will be awarded to Black-Eyed Susan.
Black-Eyed Susan is an actress in the downtown New York City theater scene. She has worked with the likes of Charles Ludlam, Ethyl Eichelberger, Mabou Mines, John Jesurun, Jim Neu, and Mallory Catlett. Susan is also a recipient of a 2014 Foundation for Contemporary Arts Grants to Artists Award.
"I've always admired Mabou Mines' work since the first time I saw them many years ago. The company was trying to do things from a different point of view and Ruth was always at the forefront of it all, pushing forward. It's an honor to be receiving this award." – Black-Eyed Susan
Reception to be held:
Sunday, October 15th
5pm-6:30pm
Phebes Tavern
359 Bowery, New York, NY 10003
RSVP REQUIRED