Glass Guignol: The Brother and Sister Play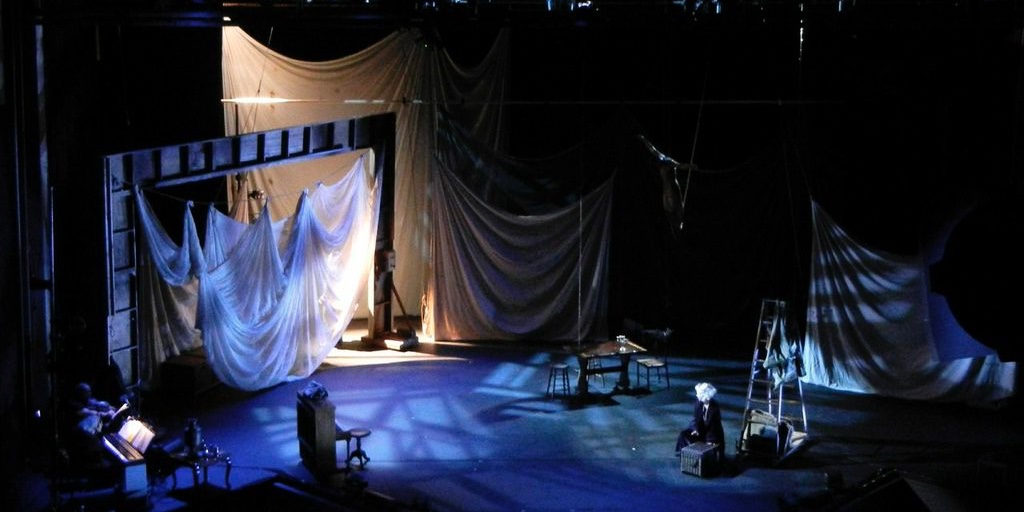 Mabou Mines & piece by piece present
Glass Guignol: The Brother and Sister Play
Created from works by
Tennessee Williams and Mary Shelley
Conceived by
Lee Breuer and Maude Mitchell
Directed by
Lee Breuer
Premieres December 2017
"Glass Guignol" invites the audience down the " Tennessee William's rabbit hole" to look at his work as kalidiscope of identities, histories — both personal a fictional – to explore his creative process in literal terms, and abstract and metaphoric terms. Williams' relationship with his mentally ill sister Rose is viewed through a frame similar to that of "The Two Character Play".  This "play within the play" intercuts with other plays, characters, short stories and poems  as well as the brother/sister relationship allows us to see, in a non-linear fashion, the constellation of questions Williams was truly exploring.  The characters and their secrets were hidden in a series of Chinese boxes. They are two halves of a whole. In "the play within the play" each of the two lead characters transforms into characters from several other Williams texts.  Both the male lead and the female performers embody both male and female characters. By using the obvious theatrical devices — exchanging wigs and "voices"  – Breuer skews our perceptions and illusions tied to gender identities.
Presented by special arrangement with The University of the South, Sewanee, Tennessee.
SPECIAL THANKS TO:
piece by piece productions; The NY Public Library for The Performing Arts; The Houghton Library at Harvard University; The Harry Ransom Center – Austin, Texas; The Columbia University Library; Duke University; The Provincetown Tennessee Williams Festival; Yaddo; St. Ann's Warehouse and Casarotto Ramsay & Associates Limited.
This program is supported, in part, by public funds from the New York City Department of Cultural Affairs in Partnership with the City Council, The New York State Council on the Arts, and the National Endowment for the Arts, the Axe-Houghton Foundation, and the W Trust.

Cast:
Felice, The Brother: Greg Mehrten
Clare, The Sister: Maude Mitchell
The "Three Inscrutable Stagehands": Eamonn Farrell, Jessica Weinstein, Tiappa Klimovtisky
Musicians:
Jay Ansill, Larry Cohen, John Kruth, Tiappa Klimovtisky (foley)
Puppeteer:
Jamey MacGilvray
Production Team:
Music – Jay Ansill
Set – Alfred Schatz
Lighting – Lucrecia Briceno
Costumes – Meganne George
Sound – Gavin Price
Dramaturgy –Thomas Keith and Maude Mitchell
The Monster and Lord Byron's Bust – Basil Twist
Mary Shelley puppet – Hanne Tierney
Projections – Eamonn Farrell
Video Text and Images – Eric Marciano
Development Lighting – Jesse Belsky
Movement Consultant – Yoshiko Chuma
Choreography for "Fear is A Monster" – Julie Arenal
DEVELOPMENT HISTORY:
Workshop – Towson University –  March 2011
Workshop – Duke University – February 2011
Workshop/Staged Scenes – Provincetown Tennessee Williams Festival – September 2011
Sundance Theater Lab at Mass MoCA – Nov-Dec 2012
Workshop/Staged Scenes – Wesleyan University – February 2013
Workshop – St. Ann's Warehouse – December 2016
Yaddo Residency – February 2017