Glass Guignol: The Brother and Sister Play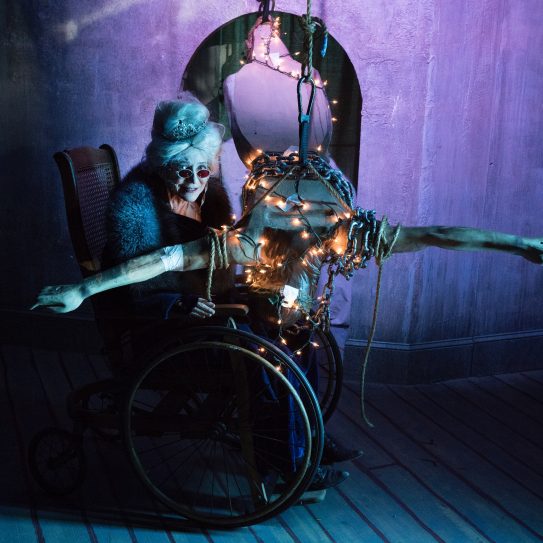 Buy Tickets
Mabou Mines & piece by piece
Glass Guignol: The Brother and Sister Play
Created from works by
Tennessee Williams and Mary Shelley
Conceived by
Lee Breuer and Maude Mitchell
Directed by
Lee Breuer
Mabou Mines Theater, 122 CC,
New York, NY
Previews
Tue Nov 28, 2017 – Sat Dec 2, 2017 7:30 pm, Sun Dec 3, 2017 3pm
Friends & Family opening
Tue Dec 5, 2017  7:30 pm  (last press preview)
Benefit Opening night performance
Wed Dec 6, 2017  7:30 pm  TICKETS
Performances
Dec 7 – Dec 23 2017: Tue – Sat 7:30 pm, Sun 3pm matinee
Tickets are sold online or at 866-811-4111
Our newest work, Glass Guignol, is inspired by the complex relationship between Tennessee Williams and his sister Rose. Framed through Williams' "The Two Character Play," and interwoven with iconic narrative from many other Williams plays, short stories and poems, Glass Guignol invites us to explore the constellation of questions this fascinating and troubled writer raises through a kaleidoscope of identities, histories, and secrets. Both metaphoric and literal, Glass Guignol explores the nature of the creative process, its triumphs…and its terrors.  Indeed, a puppet version of Mary Shelley, who knows a thing or two about fear and monsters, offers real-time commentary via texting.
Glass Guignol is Lee Breuer's latest work. Since co-founding Mabou Mines' nearly 50 years ago, he has been delighting, challenging, provoking, and always entertaining audiences all over the world.  Maude Mitchell, Breuer's collaborator on this work, plays 'the sister' and Greg Mehrten is 'the brother,' both transforming into characters from several Williams works.   Added to the mix is Breuer's always surprising take on classic texts that lead us to new understandings of the writers and ourselves.  His exploration of Williams and Shelley is further informed by the philosophies of two of our favorite provacateurs: Marcel Duchamp and Alfred Jarry.
1 of 8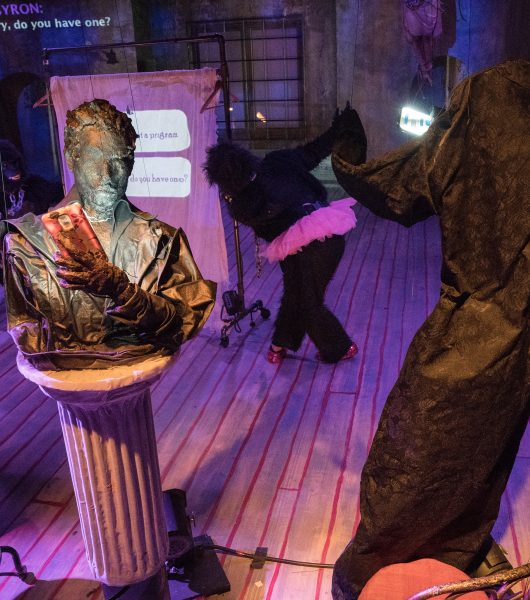 2 of 8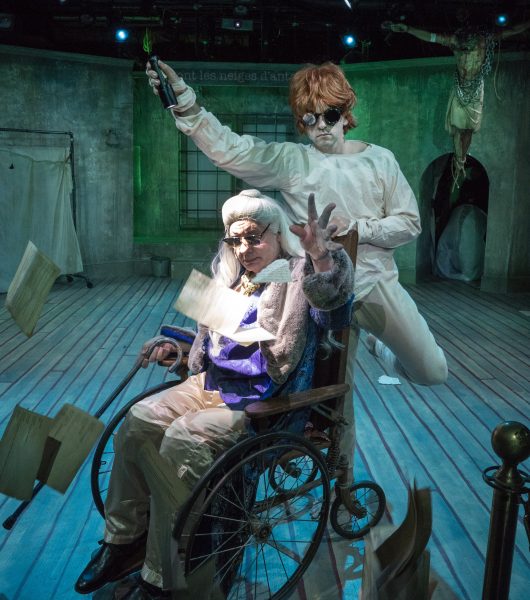 3 of 8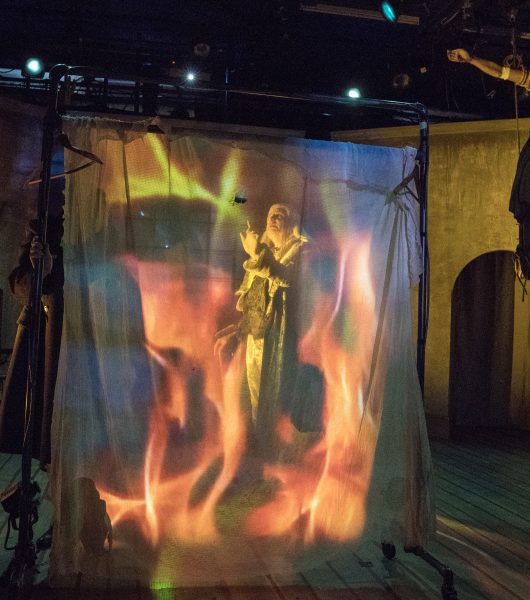 4 of 8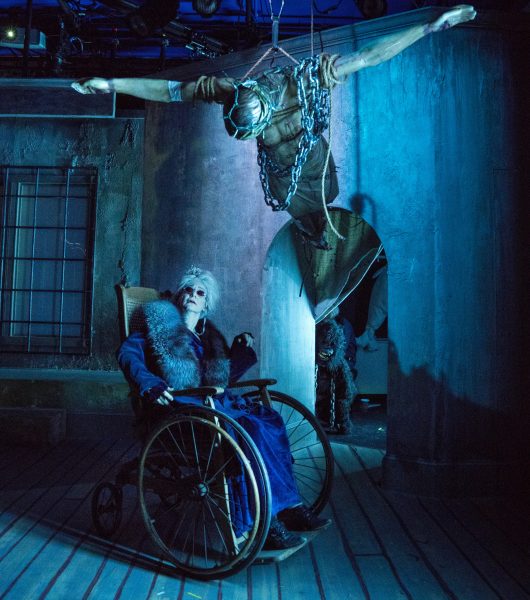 5 of 8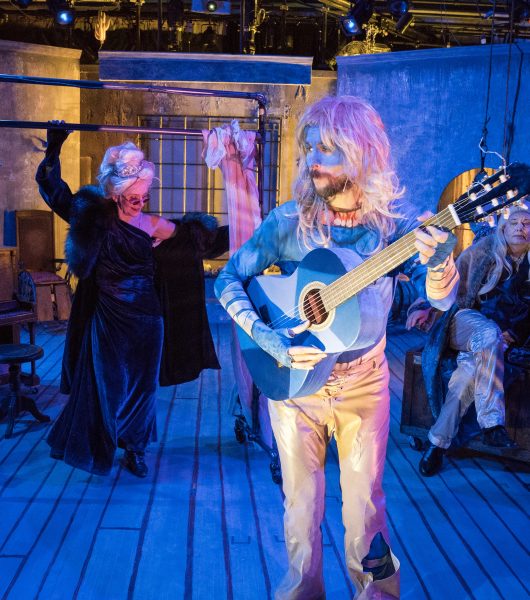 6 of 8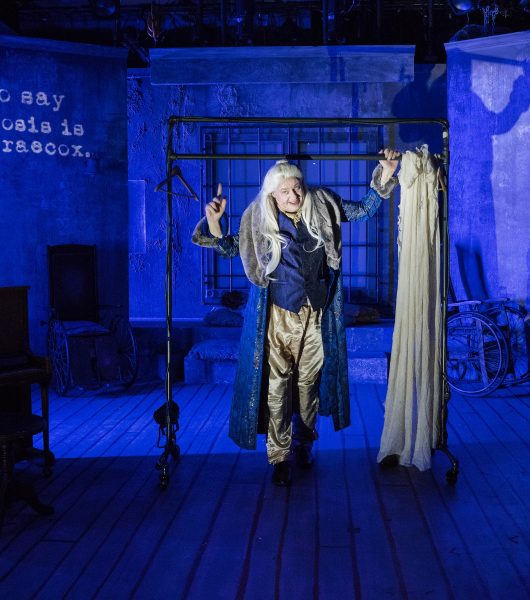 7 of 8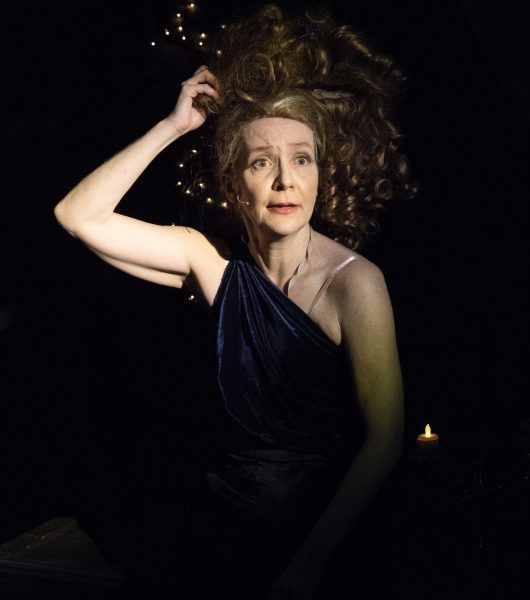 8 of 8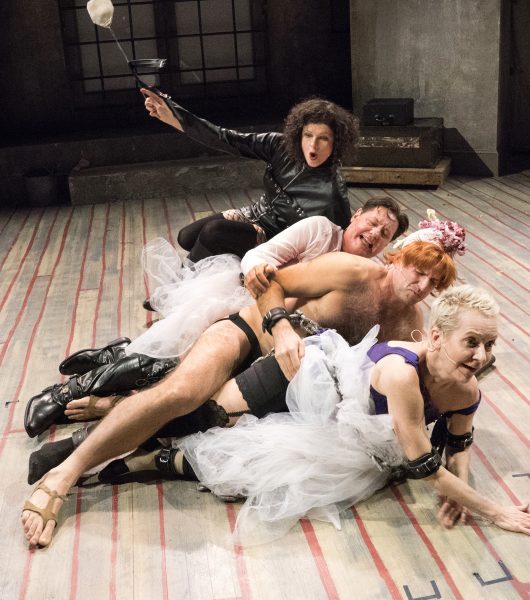 SCENE:  A state theater of a state unknown – just under the Arctic or above the Antarctic Circle.
TIME: Then and now. Before and after the performance.
Felice: The male star of an acting company on tour. He is a playwright as well as a player but you would be likely to take him for a poet with sensibilities perhaps a little deranged…
Clare: She, like her brother, seems related to a past theatre of actor-managers and imperious stars.
The Brother and Sister Play pretends there are such things as "Literary Readymades". For example, iconic passages of Williams' dialogue reframed in an unfamiliar context tell a hidden story of his sister Rose.
Fear, creativity – and monsters, within and without…
Presented by special arrangement with The University of the South, Sewanee, Tennessee.
SPECIAL THANKS TO:
Anonymous Ensemble, A.R.T./New York, Casarotto Ramsay & Associates Limited, The Columbia University Library, Duke University, The Harry Ransom Center, Harvard University, The Houghton Library at The Philoctetes Center, La MaMa Umbria, MASS MoCA, NYCDDC, The NY Public Library for The Performing Arts, Performance Space 122, piece by piece productions, The Provincetown Tennessee Williams Theater Festival, Rockmore Construction, St. Ann's Warehouse, Sundance Theatre Lab, Wesleyan University, and Yaddo.
Karl Allen, Claudia Balant, Benjamin Bales, Kate Brehm, Barbara Busackino, Lute Breuer, Roger Copeland, Edward Cosla, Rubina Decosta, Jessica Del Vecchio, Martha Elliot, Martha Donaldson, Elizabeth Groth, Susan Haar, Philip Himberg, Kenneth Holditch, Daniel Isaac, Kala Jerzy, Ron Jenkins, David Kaplan, Paul Kandel, Polina Klimovitsky, Mel Kenyon, Karen Kohlhaas, Harold Kooden, Hannah and Jackie Kritzeck, François Lizé, Panny Mayfield, Jody McAuliffe, Jo Mellicker, Tony Micocci, Adam Mitchell, Robert Mitchell, Toni Monaco, Nic Novicki, Abigail Neville and Andres Sousa, Lauren Oppelt, Gwen Ossenfort, Jim O'Quinn, Joe Paizzo, Lily Perdix, Molly Priester, Nick Rapp, Sam Richards Joseph Lark-Riley, Annette Saddik, Luly Santangelo, Jes Scheuer, Jorgen Skjaervold, Joe Stackell, Luke Thorpe, Matt Trucano, Waley Wang, Alison Yerxa, and Mia Yi.
This program is supported, in part, by public funds from the New York City Department of Cultural Affairs in Partnership with the City Council, The New York State Council on the Arts, and the National Endowment for the Arts, the Axe-Houghton Foundation, and the W Trust.

Cast:
The Brother: Greg Mehrten
The Sister: Maude Mitchell
Inmate: Eamonn Farrell
The Warden: Jessica Weinstein
Blue Guitar: Alex "Tiappa" Klimovitsky
Musicians:
Jay Ansill, Marie Incontrera, John Kruth
Ghost Children:
Ruma Valentina, Macauley Farrell Del Vecchio
The Inscrutable Stagehands:
Jessica Smith (Puppetry) Sam Gibbs and Anthony Leung (Apes)
Production Team:
Original Music: Jay Ansill
Set: Alfred Schatz
Lighting: Lucrecia Briceno
Costumes: Meganne George
Sound: Gavin Price
Lord Byron's Bust and Monster Puppet: Basil Twist
Mary Shelley Puppet: Hanne Tierney
Puppet crew: Jessica Smith
Projections: Thomas Kavanagh
Video: Texting by Eric Marciano
Props: Brooke Van Hensbergen
Dramaturgy: Thomas Keith and Maude Mitchell
Music recording: Ryan Kiple, Luigi Mazzocchi, Jen Bolcar, Jessica Tosti (Violins), Sorin Gutmann (Viola), Sachino Tsinadze (Cello),Bob Wagner (Trumpet), Andrew Neu (Saxophones and Clarinet), Kim Newell(French Horn), Larry Cohen (Piano), Shane Aaserud (Bass), Mark Cristofaro (Drums)
Stage Manager: Alyssa K. Howard
Assistant to the Director: Dana Greenfield
Technical Director: Andy Sowers
Assistant Stage Manager: Sam Gibbs
Choreography Consultant: Julie Arenal
Movement Consultant: Yoshiko Chuma
Rigger: Janet Clancy
Costume associate: Peter Fogel
Crew: Alexandre Artaud
Set Coordinator: Jeremy Pape
Wardrobe: Martina Gordon
Dramaturgical Intern: Holly Wright
Public Relations & Press Representation: Ellen Jacobs Associates
piece by piece Associate: Rosemary Quinn
Developmental Co-Director: Kyoung H. Park
Development and Producing Consultant: Eric Marciano
Developmental Lighting: Jesse Belsky
Developmental Sound: Ed Cosla
DEVELOPMENT HISTORY:
Workshop – Towson University –  March 2011
Workshop – Duke University – February 2011
Workshop/Staged Scenes – Provincetown Tennessee Williams Festival – September 2011
Sundance Theater Lab at Mass MoCA – Nov-Dec 2012
Workshop/Staged Scenes – Wesleyan University – February 2013
Workshop – St. Ann's Warehouse – December 2016
Yaddo Residency – February 2017