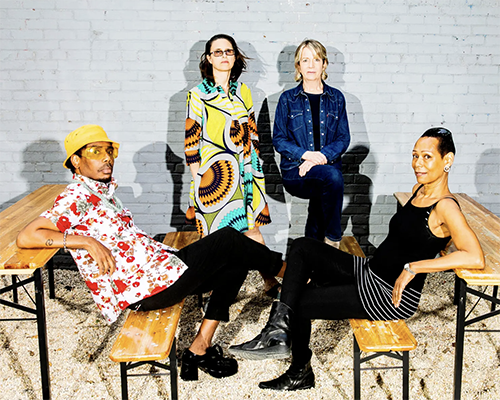 A three-day retrospective will shine a spotlight on the group's most daring projects.
By Elisabeth Vincentelli
The New York Times
June 22, 2022
The word "crazy" comes up fairly regularly when talking to people about the Mabou Mines theater company.
Take one of Sharon Ann Fogarty's early experiences with that fabled group — nine years before she became one of its co-artistic directors. It was on "Mabou Mines Lear," a gender-reversed production of "King Lear" — not obvious back in 1990 — that was directed by Lee Breuer and starred Ruth Maleczech as the monarch.
"The opening scene had dogs and all these kiddos so my job was to pick the kids up around five o'clock, drive them over, do the scene and drive them back," Fogarty, now 65, said. "Then I would come back, and I was doing various other parts. One of them was holding down Isabell Monk while Honora Fergusson gouged her eyes out. It was kind of a crazy, crazy time," she continued, "but it was really fun."
Starting Thursday, Mabou Mines is celebrating 50 years of theatrical experimentation with a three-day megamix, a retrospective of some of its most notorious, daring, beloved, memorable or, yes, craziest projects. (The company is actually 52 years old but the celebration was delayed by the Covid-19 pandemic.) The works will include live readings, concerts and films, in conjunction with a companion exhibition of archival material, at the Mabou Mines home in the 122 Community Center, in the East Village, where the group settled in 2017 after decades of a peripatetic existence.
The performing arts, by definition, exist in the moment, so mounting a greatest-hits package — especially of an Off Off Broadway company — is a daunting task. Mabou Mines got the idea for its extended birthday party after a founding member, JoAnne Akalaitis, spearheaded a 12-hour tribute to the playwright María Irene Fornés at the Public Theater in 2018. "So when we came to talk about Mabou Mines's 50th, JoAnne said, 'Why don't we just do a marathon of all the pieces?'" Fogarty recalled.
This would have been more than 60 works, so they settled on 31. "Some are going to be excerpts, some are going to be full, some are just going to be the music," Fogarty said. "Some of them are an hour, or you get 15 minutes, like a juicy scene or something."
The programs will bring former company members back to the fold, along with simpatico guests such as Bill Camp and Elizabeth Marvel, who will perform Franz Xaver Kroetz's "Through the Leaves," produced by Mabou Mines in 1984, on Thursday. The following day Akalaitis will direct David Greenspan, Ellen McLaughlin and Ellen McElduff, a former company member, in Samuel Beckett's "Play," which Mabou Mines staged in 1971.
The time machine will travel all the way back to Mabou Mines's first project, "The Red Horse Animation" (1970), which was conceived during a retreat in the isolated Nova Scotia town that gave the company its name. On Saturday, Akalaitis — who was in the original production — will reprise it alongside a pair of first-generation Mabou heirs: the writer, director and actress Clove Galilee, who is Breuer and Maleczech's daughter, and the choreographer David Neumann, the son of the Mabou members Fergusson and Frederick Neumann, who died in 2012. (Akalaitis's then-husband, Philip Glass, another founding member, wrote the music.)
Read the full article at NYTimes.com.