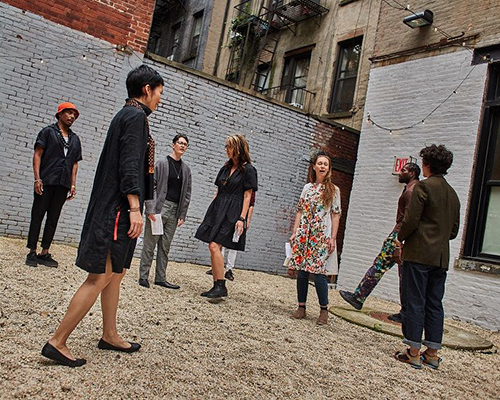 Last weekend the seminal New York experimental ensemble feted a formidable legacy of collective creation, cross-pollination, and cultivation of generations of theatremakers.
By Don Shewey
American Theatre
June 28, 2022
When Deidre O'Connell accepted the Tony Award in June for her shattering performance in Lucas Hnath's play Dana H., she shared a piece of personal wisdom that immediately became part of theatre history. "I would love for this little prize to be a token for every person who is wondering, 'Should I be trying to make something that could work on Broadway or that could win me a Tony Award? Or should I be making the weird art that is haunting me, that frightens me, that I don't know how to make, that I don't know if anyone in the whole world will understand?' Please let me standing here be a little sign to you from the universe to make the weird art."
The legendary New York-based theatre collective Mabou Mines has been making the weird art for more than five decades, if "weird" is understood to mean unusual, original, innovative, unpredictable, adventurous, genre-defying, unconventional, and not catering to anyone's idea of Broadway-bound commercial theatre. In 1970, two American couples—Lee Breuer and Ruth Maleczech, JoAnne Akalaitis and Philip Glass—and British actor David Warrilow, who had met in Europe and spent five years observing and studying with the Berliner Ensemble, the Living Theatre, and Jerzy Grotowski, returned to North America. Holed up on a farm outside the town in Nova Scotia whose name they adopted, Mabou Mines created their first theatre piece, The Red Horse Animation, written and directed by Breuer. A 50th anniversary celebration of the troupe's beginning, postponed for two years like so many things because of the pandemic, took place June 23-25 at 122 Community Center in the East Village (the venue that veteran theatregoers will probably always think of as P.S. 122).
The celebration unofficially began on Tuesday, June 21, with a memorial tribute to Lee Breuer, who died January 2 at the age of 83, at St. Ann's Warehouse in Brooklyn. (Video of that festive event can be found on the Mabou Mines website.) Next, a party at 122CC on June 22 honored Gail Merrifield Papp and Mia Yoo, representing two organizations—the Public Theater and La MaMa ETC—who were crucial supporters in the early days of Mabou Mines. And the heart of the 50th anniversary festival comprised three days of readings, excerpts, re-creations, concerts, art installations, and films covering the entire span of Mabou Mines history.
Scheduling conflicts prevented me from attending the festival on Thursday or Saturday, which meant I didn't get to see the great clown and soulful actor Bill Irwin do The Lost Ones, the adaptation of Samuel Beckett's short story that David Warrilow originally performed under Breuer's direction in a stairwell at the Public Theater. I missed seeing the mighty team of Elizabeth Marvel and Bill Camp reading the roles played by Ruth Maleczech (who died in 2013) and Fred Neumann in JoAnne Akalaitis's unforgettable production of Franz Kroetz's Through the Leaves. And I would dearly love to have seen Akalaitis reprise The Red Horse Animation alongside Clove Galilee (daughter of Breuer and Maleczech) and David Neumann (son of Fred Neumann and company member Honora Fergusson, both of whom died in 2012) in roles first played by Maleczech and Warrilow.
But the four events I was able to witness on Friday spanned the entire length of Mabou Mines's existence, and represented virtually all the hallmarks of the company's artistry. Devoted from the beginning to original work (generated first by Breuer and later by others), Mabou Mines also dedicated themselves to championing Beckett; treating him as some mixture of honorary member and reigning deity, they went beyond Waiting for Godot and Endgame to concentrate on tiny, rarely mounted texts. For the festival, Akalaitis directed readings of Play and Come and Go, two brief, surprisingly funny Beckett pieces that Breuer originally staged with music composed by Glass (years before Einstein on the Beach put him on the map). Ellen McElduff recreated her role in Come and Go, while Clove Galilee and actor-playwright Ellen McLaughlin (probably best known as the original Angel in Tony Kushner's Angels in America) played parts and emitted curious, dove-like sounds once assayed by Maleczech and Akalaitis herself.
Read the full article at AmericanTheatre.org.