Cee Cee and Dee Dee and the Flying House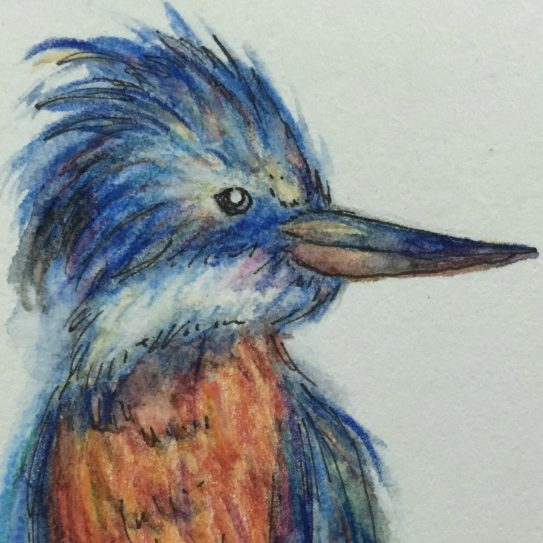 Cee Cee and Dee Dee and the Flying House
Text and direction by
Terry O'Reilly
Illustrations by
Charlotte Fleming
Performances
Opens Dec 7, 2017 and runs to  Feb 25, 2018 in Taiwan
An interactive performance exhibition that utilizes visual media and audio designed to promote language preservation and development for the local children in the south of Taiwan.
Inspired by the comic dialogues of the clown characters of Wayang Kulit shadow puppetry and the contentious and playful way that children speak, Terry O'Reilly imagines what birds would say when first they encounter a flying house.
Flying House / Home ran concurrently with Terry O'Reilly's Cee Cee and Dee Dee and the Flying House at Soulangh Artist Village, Tainan, Taiwan. 2017-2018.
1 of 6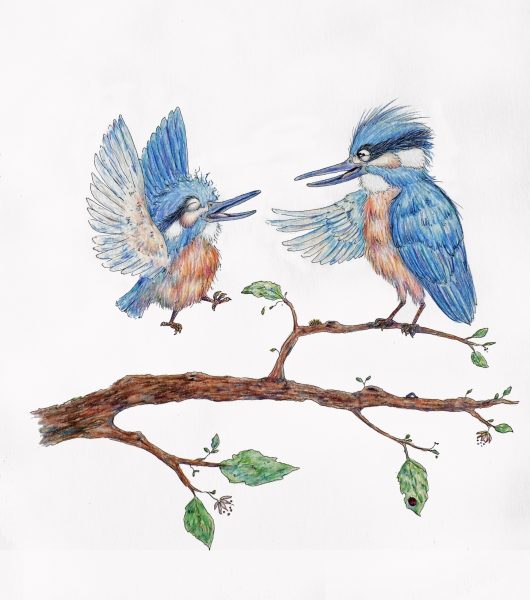 2 of 6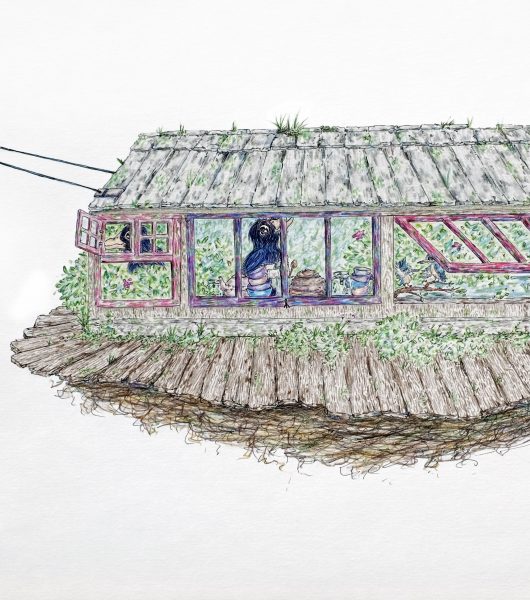 3 of 6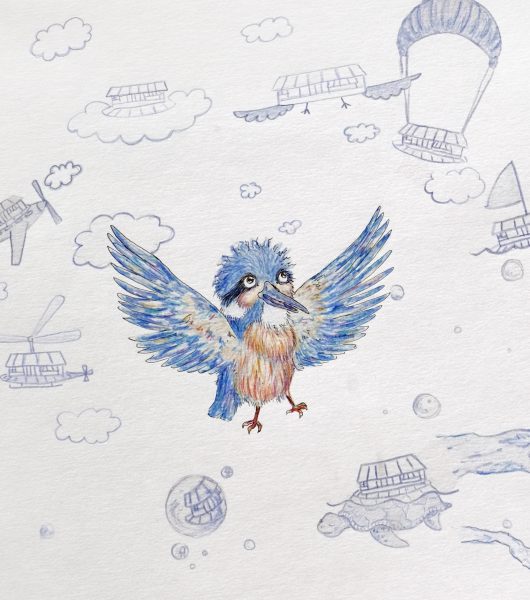 4 of 6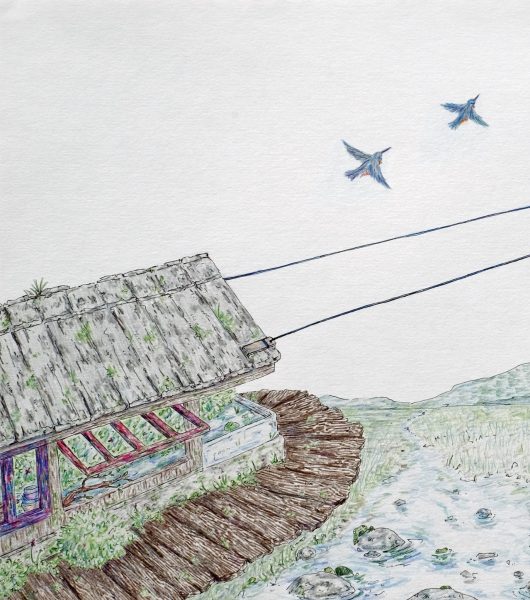 5 of 6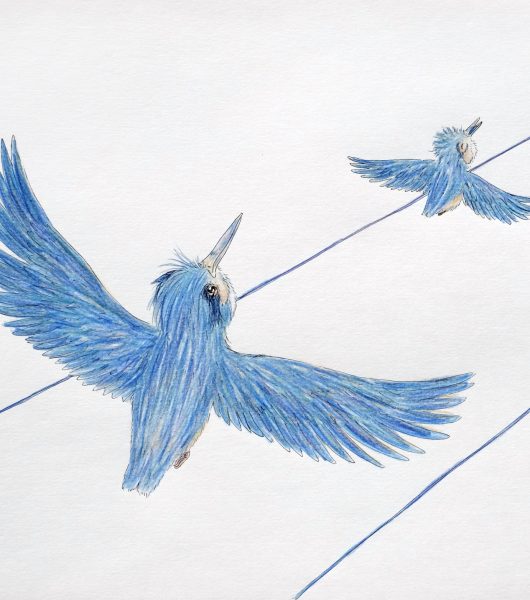 6 of 6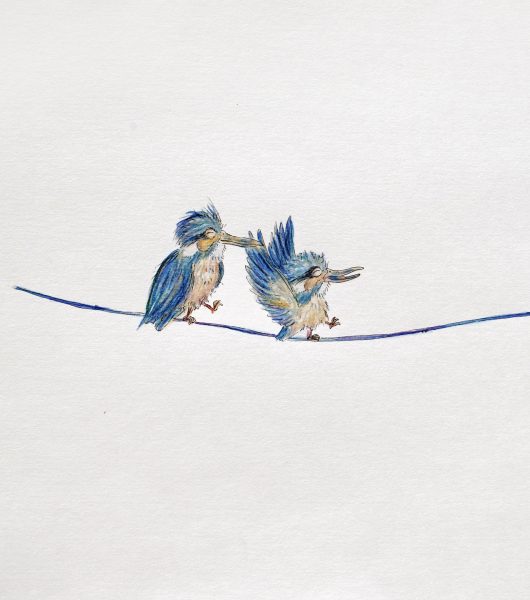 Special Thanks To:
Pisui Ciyo碧斯蔚‧梓佑 for introducing me to Atayal and Saisiyat cultures, to Taimu, Professor Mingder Chung, to Seyluf Tame-Tavali, to Rita Chang and ACC/Taiwan, to Ralph Samuelson and Cecily Cook ACC/ New York, to Sumi Dunji who proved to the world that "you can do anything" and all the Pangcah people, the Makota'ay, always.
All thanks to:
Japanese Architect Terunobu Fujimori 藤森照信 who imagined and built a flying tea house.
The curators at The National Museum of Taiwanese Literature 臺灣文學館策展人, the curators at The National Museum of Taiwanese History 臺灣歷史博物館策展人, Professor Rey Fang Hsu from the National University of Tainan Drama Department 臺南大學戲劇創作與應用學系 助理教授 許瑞芳, Seyluf Tame-Tavali  西拉雅語 李淑芬, Pisui Ciyo  碧斯蔚‧梓佑Hsu Yen-ling徐堰鈴, Ajohn Chen 陳阿江 , Lin Guang-Cai.  林廣財, Tjimur Dance Theatre Artistic Director Ljuzem Madiljin蒂摩爾古薪舞集團長暨藝術總監 路之‧瑪迪霖 , Shu-Ting Chiu團務經理 邱書婷 , I-Hsuan Li藝術行政 李奕萱 Huang Chiung-Ying (Joanne) 黃瓊瑩, Juo-ruei Ye (Rick) 葉卓叡, Kuan-Yin (Ann) Liu 劉冠吟, Yu-Chen Yang (Randy) 楊祐丞,Vida Sabbaghi 薇妲‧薩巴紀, Lin Su-Jie林書杰, Xie Yi-qin謝益欽, Kang San-chuan康三川 and  The Soulangh Artist Village and the Kandu Museum of Fine Arts.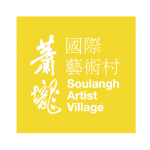 Production
Creator / Director- Terry O'Reilly
Illustrations – Charlotte Fleming
Sound
Composition- LiPing Ting
Sound proposal LiPing Ting (Piano)
Ying-hao Lee (violin)
Voice performances by:聲音表演:Liping Ting 丁麗萍, Ying-hao Lee 李英豪, Lin Yu-ching林育正, Jixin Wang 王霽昕, Kenji Makizono 牧園憲二, Nobuyuki Sugihara 杉原信幸, Ayaka Nakamura 中村綾花, Yupas Watan 尤巴斯‧瓦旦
Chreographer – Baru Madiljin 編舞家 巴魯‧瑪迪霖
Ching-Hao Yang楊淨皓 , Ljaucu Tapurakac舞祖‧達卜拉旮茲 , Tzu-En Meng蒙慈恩 ,Wilson Feng   陳怡婷,
Song Yong-song宋永松,Sang Hong曾員香, Song Changqing宋長青, Lin Qi Wei 林奇葦  Cee Cee!
Development History:
Residency – Soulangh Artist Village – Tainan, Taiwan – September to December 2017
Residency – Kandu Museum of Fine Arts – Taipei, Taiwan – September 2017