I Understand Everything Better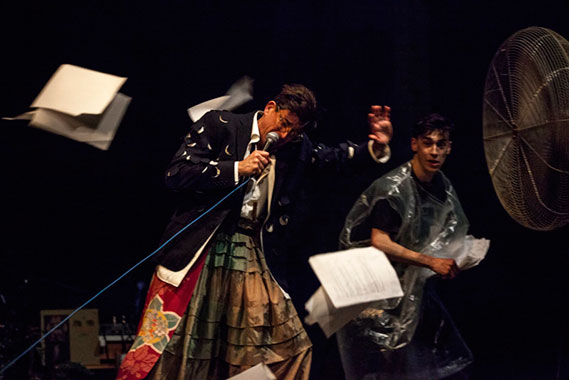 Mabou Mines presetns
David Neumann/Advanced Beginner Group's
I Understand Everything Better
Choreographed and Directed by
David Neumann
commissioned by
the American Dance Institute, the Chocolate Factory Theater, and Abrons Art Center
WORLD PREMIERE
American Dance Institute, March 27–28, 2015
NEW YORK PREMIERE
Abrons Art Center (Playhouse), April 15-25, 2015

I Understand Everything Better, a multidisciplinary dance-based performance by Bessie-Award winning choreographer/performer David Neumann, explores our impulse to report on calamity; the shimmer of attention to realms unseen; the concurrence of unrelated events and the body as evidence of a will having to let go. Neumann's "deeply felt and deeply moving" work (New York Times) manifests as a 'solo with other performers', marking Neumann's return to performing in his own work after an absence of several years.

Developmental support for this project is provided by Ringling Museum and the Maggie Allesee National Center for Choreography at Florida State University. David Neumann/Advanced Beginner Group has been awarded touring support through the National Dance Project, a program of New England Foundation for the Arts.
Collaborators
Performers:David Neumann, Andrew Dinwiddie, and Jennifer Kidwell
Production Team
Text: Sibyl Kempson
Sound: Tei Blow
Lights: Chloe Z. Brown and Christine Shallenberg
Set: Mimi Lien

Press
In 'I Understand Everything Better,' Ruthless Elemental Forces-The New York Times
I Understand Everything Better-Time Out
David Neumann's "I Understand Everything Better" -The New Yorker

Development History
Ringling Residency and the Asolo Theater/FSU: August 20–26, 2014
PRELUDE Festival: Martin Segal Theater at October 10, 2014
Dance Recon: Abrons Art Center, November 8, 2014
BRICLab: Work-in-progress showing, December 19 & 20, 2014
MANCC Residency: January 12–25, 2015