La Divina Caricatura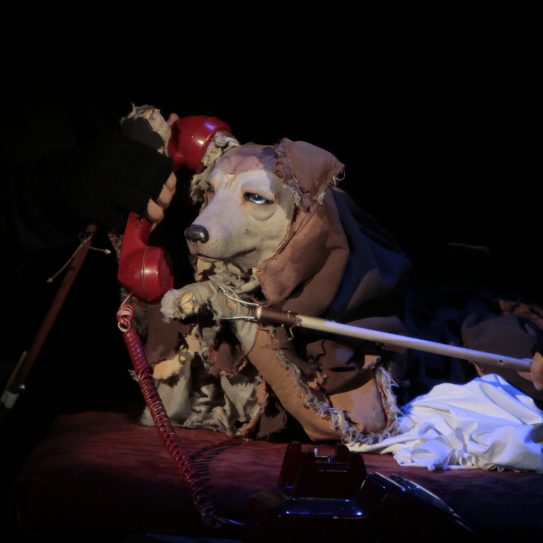 La Mama and St. Ann's Warehouse present
LA DIVINA CARICATURA
LIBRETTO, LYRICS & DIRECTION
Lee Breuer
PUPPETRY DIRECTOR
Jessica Scott
Produced by piece by piece, Mabou Mines, and Dovetail Productions
PERFORMANCES
December 7 – 22, 2013
Ellen Stewart Theater, LA MAMA ETC
Inspired by one of the greatest works in world literature, Dante's Divine Comedy, Breuer adapts Dante's spiritual journey, modernizing the universal questions posed in the original. La Divina Caricatura is a mixed media presentation based on classic Bunraku, incorporating popular Afro-American chorale with music composed and arranged by Lincoln Schleifer.
SPECIAL FUNDING PROVIDED BY
The National Endowment for the Arts American Masters Grant, The Jim Henson Foundation, Axe-Houghton Foundation, Esther Fortunoff Green, The Charles Haar & Suzanne Keller Haar Charitable Foundation, The December Second Fund (a donor advised fund) and many generous individuals.
SPECIAL THANKS TO
Mia Yoo, Mark Tambella and all the amazing folks at La MaMa, Patrick Nash, Derek Lloyd & PS122, and Materials for the Arts.
THESE PERFORMANCES ARE DEDICATED TO RUTH MALECZECH.
1 of 6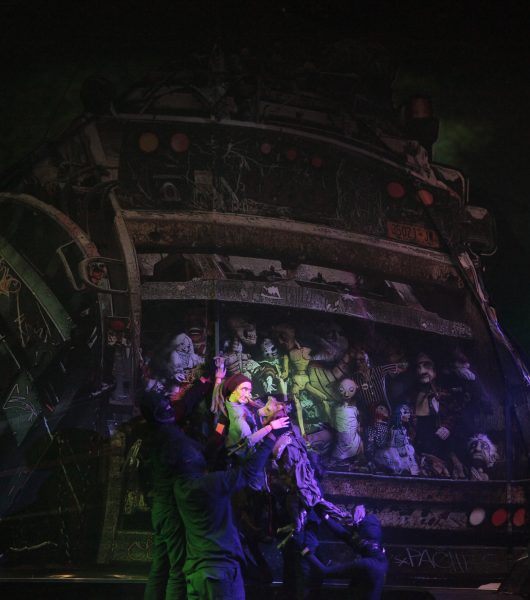 2 of 6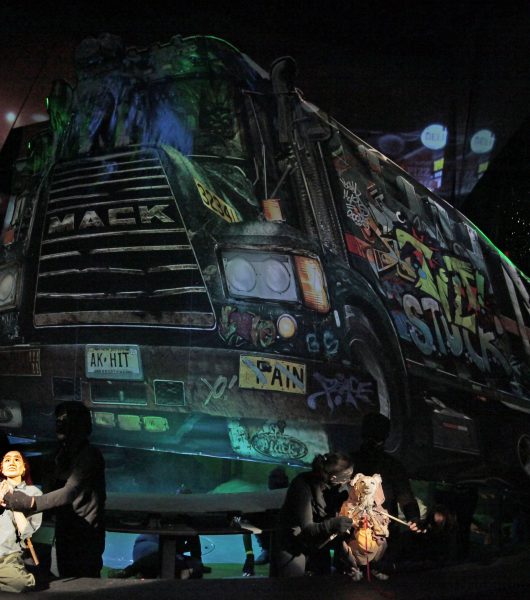 3 of 6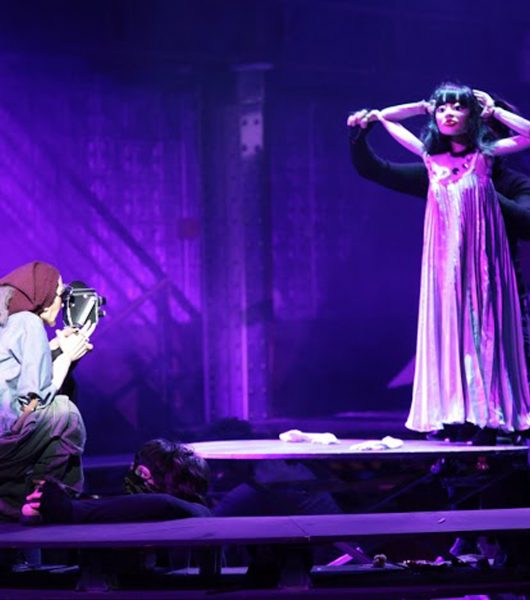 4 of 6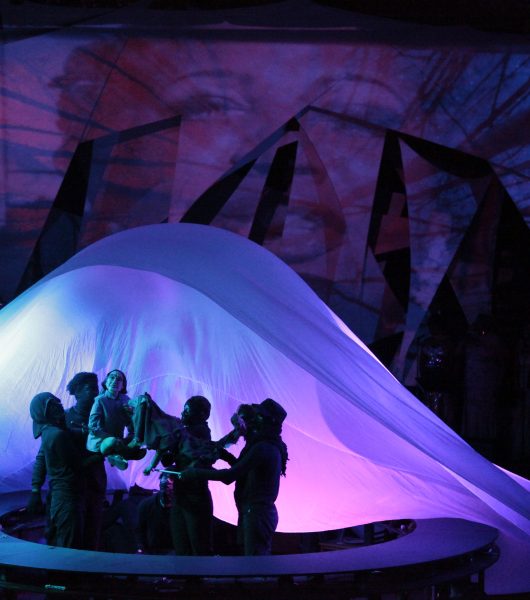 5 of 6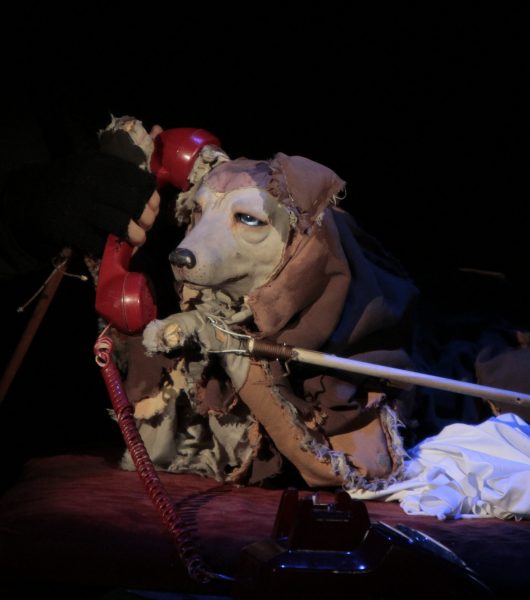 6 of 6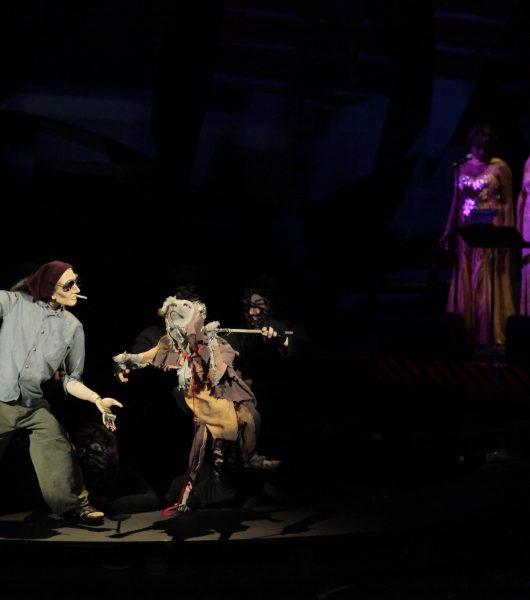 SINGERS
Bernadine Mitchell: Rose
John Margolis: John
THE WILD WOMEN
Maxine Brown, Beverly Crosby, Sherryl Marshall
THE POPPERS
Lee Williams, Gene Stewart, Ben Odom, Roy Bennett
THE ACTORS
Greg Mehrten, Karen Kandel, Paul Kandel, Terry O'Reilly, Maude Mitchell, Daniel K. Isaac
THE PUPPETEERS
Jessica Scott, Kate Brehm, Emily Decola, Tom Lee, Marta Macrostie, Eric Avery, Sarah Provost,
Jessica Weinstein, Stefano Brancato, Brendan McMahon, Amanda Villalobos, Terry O'Reilly,
Kelly Selnick, Jessica Simon, Katie Melby
MUSIC
Music Composed and Arranged by Lincoln Schleifer
Music Direction Lincoln Schleifer
Music for "Sister Suli Cinema" and "Lemon Ice" by Bob Telson
"John and Suli's Music" by John Margolis
Production Team
Puppet and Mask Design:
Rose and Sri Moo – Julie Archer
John and Suli – Eric Novak
Porco, Bulgakov, Sheepish and "The Original Poppers" – Jessica Scott
Broadway – Emily DeCola
Sets: Alison Yerxa
Lights: Jason Boyd
Video: Eamonn Farrell
Sound: Ron Lorman
Costumes: Jesse Harris
PRESS
'Man's Best Friend' Takes on a New Meaning'La Divina Caricatura' at La MaMa
-The New York Times
Pigs, Ants, Karma, Dogs, Love and LossLee Breuer Prepares 'La Divina Caricatura'
-The New York Times
Development History
Towson University
Under the Radar Festival-2013
PS122 & Mabou Mines ToRoNaDa Theater.