RAP 2023 – Our bodies like dams | Sarah Finn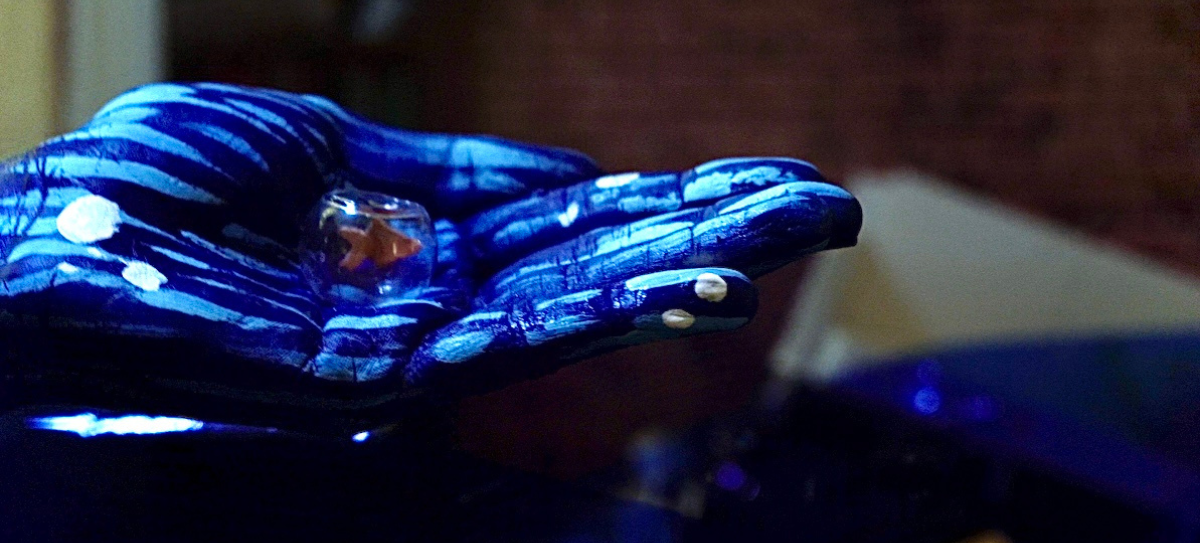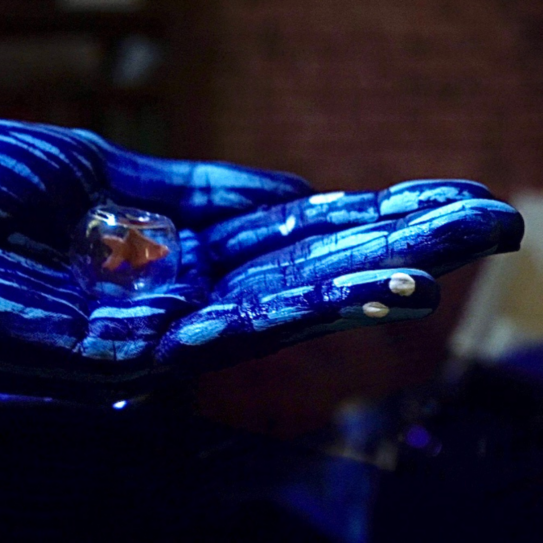 MABOU MINES RESIDENT ARTIST PROGRAM, 2023
Our bodies like dams
Written and Directed by
Sarah Finn
SHOWINGS
June 8 at 9pm & June 9 at 7pm
ALL SHOWINGS FREE AND OPEN TO THE PUBLIC
Mabou Mines
@122CC
150 First Avenue, Second Floor
New York, NY 10009
Our bodies like dams is a live multimedia performance set in a handmade, flooding city. This part love-story, part eco-fantasy, imagines a woman's unexpected metamorphosis in the face of romantic and coastal decay, as her and her partner's apartment floods entirely.
Adapted from their short film of the same name, Sarah and their collaborators now realize it as a live performance with puppetry, miniature sets, wearable sculpture, live-feed cameras, dance and immersive sound.
The film, Our bodies like dams, is sponsored, in part, by the Greater New York Arts Development Fund of the New York City Department of Cultural Affairs, administered by Brooklyn Arts Council (BAC). Additionally, the Map Fund Micro Grant, the 60+ backers of the film's fundraising campaign, and Mabou Mines.
Written & Directed by
Sarah Finn
Performed by

Amanda Card, Marcella Murray, & Tam Nguyen
Video Design & Operation by
Shayna Strype
Puppet Building by

Marcella Murray, Amanda Card, & Sarah Finn
Projection Design & Operation by
Camellia Bayle-Spence
Sound Design by
Sid Diamond
Lighting Design by
Christina Tang
Scenic Design by
Karen Loewy Movilla
Puppet Consulting by
Ash Winkfield
Sarah Finn (she/they) is a Brooklyn-based artist working in performance + film. They've presented work at Exponential Festival, Prague Fringe, and FringeArts. She was a 2023 Object Movement Artist-in-Residence, and for her film, Our bodies like dams – a 2023 Brooklyn Arts Fund Grantee, and MAP Fund Micrograntee. She trained at Ecole Internationale de Théâtre Jacques Lecoq and got her BA from Sarah Lawrence College.
Amanda Card (she/they) is a multidisciplinary theatre artist. Her work has appeared at Object Movement, La MaMa, Dixon Place, Great Small Works, Bee Hall's Park Song, and Maiko Kikuchi and Spencer Lott's 9000 Paper Balloons. Her new show, Boy Crazy, will premiere at Ars Nova's ANT Fest. MFA, Sarah Lawrence College.
Sid "SD" Diamond (he/they) is an interdisciplinary artist with a focus in music and experimental electronic sound. With a long history of theatrical and musical training, SD combines all their interests regularly in his solo work as postmortemdemon and in his collaboration with others.
Shayna Strype (she/her) is a multimedia artist working in film, animation, and performance. Her play Mine premiered at Dixon Place Theater with the support of The Jim Henson Foundation. In 2021, she directed an award-winning short film adaptation, Our Mine, produced by IBEX Puppetry. MFA, Sarah Lawrence College.
Camellia Bayle-Spence (she/her) is a NY-based projection designer and digital artist. Her projection design has been in shows in NYC, the Prague Fringe Festival, the Chicago International Puppet Theater Festival, and with the Advanced Beginner Group at Mabou Mines and UNC Chapel Hill. MA in Child Development, Sarah Lawrence College.
Christina Tang (she/her) is a lighting designer and multimedia art maker based in New York City. She is a frequent collaborator on new works for theater and dance. Her work TRAFFIC premiered in The Exponential Festival in 2021. She is a 2021 recipient of Opera America's Robert L.B. Tobin Director-Designer Prize. Christinaftang.com
Karen Loewy Movilla (she/her) a Colombian artist based in New York City. Recent credits: Urinetown (Sarah Lawrence College, Our Bodies like Dams (dir. Sarah Finn ) and New England Summer Storms (dir. Catalina Beltran). Karen co-created and performed Tia Talk at Paper Kraine, The Tank and Ars Nova's AntFest 2022 and is presenting at The Tank as a Core Production August 2023. She was part of Object Movement Puppetry Residency 23' and a 2021 MFA graduate at Sarah Lawrence College @lwykaru
Marcella Murray (she/they) is a Brooklyn-based theater artist from Augusta, Georgia. Recent work includes Distances Smaller Than This Are Not Confirmed (2020 Obie Special Citation)/Abrons Arts Center, Primer for an Impossible Conversation/MCA Chicago, and Water Prayer/EiO. She is currently developing Other Atlantas: A Prologue (2023 Henson Workshop Grant).
Tam Nguyen (she/her) is a Vietnamese writer in NYC and dancing freeform through life otherwise. Recent work include publication with DVAN (Diasporic Vietnamese American Network) and collaborating in Our Bodies like Dams as puppet model. She is working her way through a screenplay on contacting aliens and a series of lessons on chaos.
Photo credit: Sarah Finn & Xuan Liu