Song for New York: What Women Do While Men Sit Knitting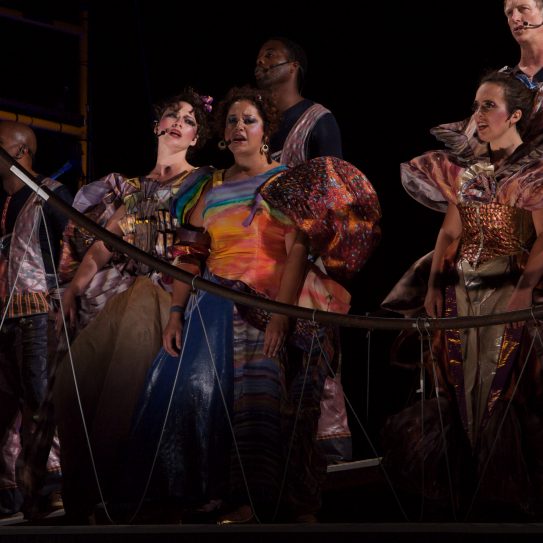 Mabou Mines
SONG FOR NEW YORK: WHAT WOMEN DO WHILE MEN SIT KNITTING
Conceived and directed by
Ruth Maleczech
Composed by
Lisa Gutkin
Premiere
August 31, 2007
Gantry Plaza State Park, Long Island City, NY
Song for New York, a site-specific work, was performed from a barge moored in the East River with audiences seated on the pier at Gantry State Park in Long Island City. The piece, composed of five poems – one poem representing each of the five boroughs that make up New York City – was written by five female poets who spent much of their lives in the borough about which they wrote.
S4NY was developed, in part, by the Sundance Institute Theatre Program and at residencies with New York Theatre Workshop (at Vassar College), Voice and Vision Envision Retreat (at Bard College) and Ucross Foundation (in Clearmont, Wyoming). A "Sing Through" version of S4NY was presented at the Brooklyn Academy of Music on 6/4/07 as part of Sundance Institute at BAM.
Watch S4NY on Youtube.
1 of 3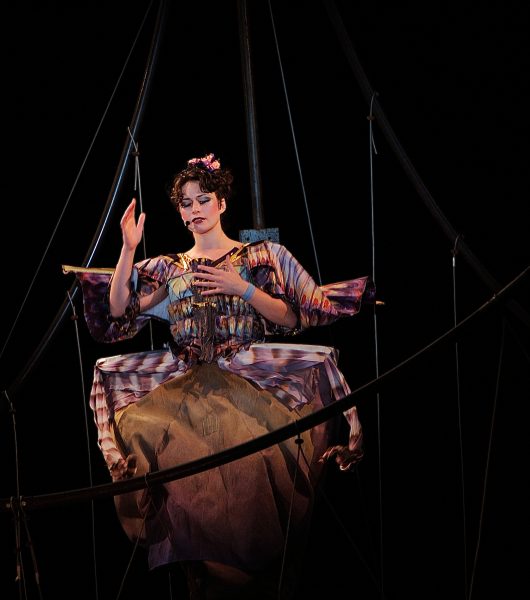 2 of 3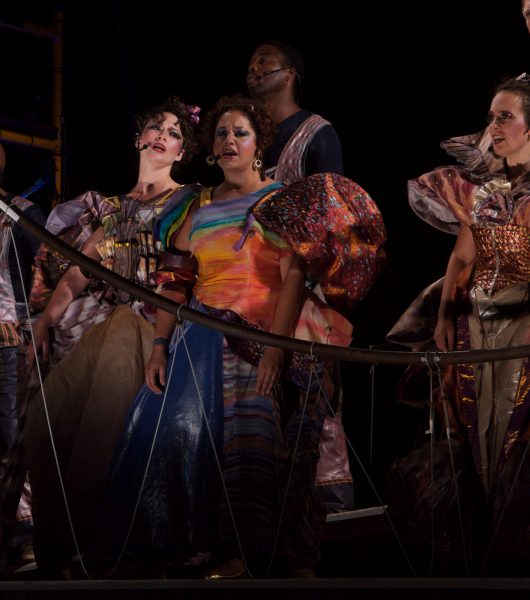 3 of 3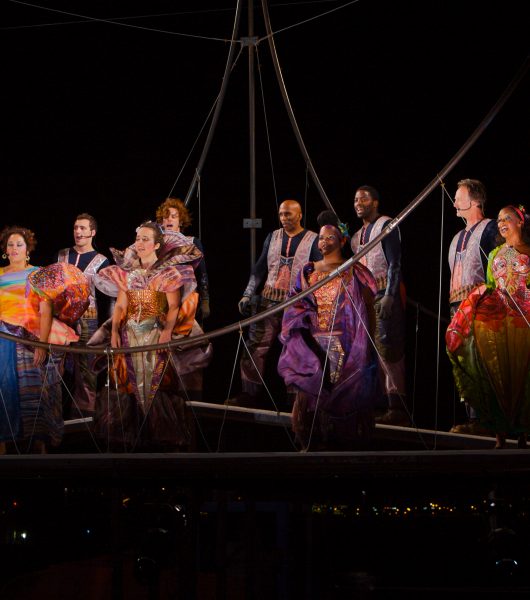 Singers
Simotra Simone Houston – Brooklyn Song
Sophia Holman – Staten Island Song
Elisa Bocanegra – Bronx Song
La Tanya Hall –  Queens Song
Susan McKeown – Manhattan Song
Chorus
Rob Besserer, Tomé Cousin, Prentice Onayemi, Postell Pringle, Matt Sadewitz, Joshua Weidenmiller
Musicians
Saxophone, Clarinet, Kaval: Matt Dariau
Percussion: Zack Eldridge
Keyboards, Autoharp, Melodica: Jesse Gelber
Trumpet, Band Leader: Rob Henke
Viola, Erhu, Waterphone: Todd Low
Bass, Tsimbl, Banjo: Paul Morrissett
Guitar, Banjo: James Riley
Saxophone, Flute: Joel Thompson
Chorus Director: Paul Kandel
Choreographer: Gabrielle Malone
LYRICS
Bronx Song: Migdalia Cruz
Manhattan Song: Maggie Dubris
Yarns: Nancy Groce
Brooklyn Song: Patricia Spears Jones
Queens Song: Karen Kandel
Staten Island Poem: Imelda O'Reilly
Setting of Spanish in Bronx Song: Sandra Garcia Rivera
Music Director: David Levi
Arranger: Staten Island & Queens Songs – Jill Jaffe
Arranger: Brooklyn Song – Joel Thompson
Production
Set design: Julie Archer
Lighting design: Christine Sciulli
Costume design: Irina Kruzhilina
Press
Portable Theater (Just Go With the Flow) – NY Times
An Affectionate Shout-Out to New York – NY Times