The Vicksburg Project – World Premiere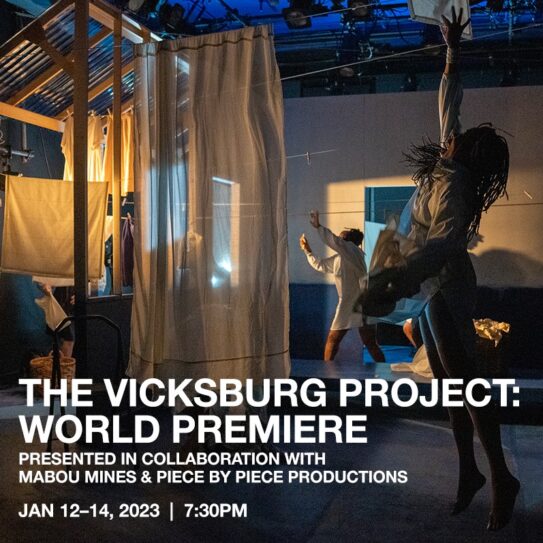 THE VICKSBURG PROJECT
World Premiere
Presented by Harlem Stage
Produced by Mabou Mines & piece by piece productions
Created by Eve Beglarian, Mallory Catlett, and Karen Kandel
____________________________________________________
Thursday, January 12, 2023   | 7:30PM
Friday, January 13, 2023          | 7:30PM
Saturday, January 14, 2023   | 2PM & 7:30PM
____________________________________________________
Harlem Stage Gatehouse
150 Convent Ave, New York, NY 10031
PRICE: $35 / $25
____________________________________________________
Performance runs 90 minutes, no intermission.
The Vicksburg Project, presented by Harlem Stage, produced by Mabou Mines and piece by piece productions, and created by Eve Beglarian, Mallory Catlett and Karen Kandel traces the experiences of women and gender-expansive people in Vicksburg, Mississippi, a small city pivotal to the painful history of our country. How can we speak honestly about what happened in this place that haunts us still?
The texts of The Vicksburg Project are constructed from historical diary entries, letters home, newspaper accounts, live interviews, and original writing by Karen Kandel as well as poetry by June Jordan, Thylias Moss, and Lucille Clifton. These materials are spun into intimate songs and confessions inspired by everything from parlor music of the 1860s to traditional blues of the 1920s to freedom songs of the 1960s, and from Wagnerian lushness to solo uke strumming to a capella chant.
The Vicksburg Project resurrects deeply researched stories from the Civil War, Jim Crow, and the Civil Rights Movement, and integrates the creators' own experiences as women — black and white, straight and gay, the descendants of enslavers and the enslaved. The Vicksburg Project acknowledges the humanity in every person's story. Join us at Harlem Stage for this stirring world premiere run.
PLEASE NOTE: Harlem Stage requires masks and proof of a complete COVID-19 vaccination to attend performances. 
The Vicksburg Project is supported, in part, by public funds from the National Endowment for the Arts, The New York State Council on the Arts, New Music USA and with support from: The Made in NY Women's Film, TV & Theatre Fund by the City of New York Mayor's Office of Media and Entertainment in association with The New York Foundation for the Arts, The Café Royal Cultural Foundation, Axe-Houghton Foundation, and the JKW Foundation.

COLLABORATORS
Eve Beglarian – Composer/Writer
Karen Kandel – Writer/Performer
Mallory Catlett – Director
COMPANY
Lauren Genevieve – Performer
Red — Performer
Megan Schubert – Performer
Melanie Dyer – Viola
Gwen Laster – Violin
Christina Morris – Bass
Janice Lowe — Music Director
Peiyi Wong – Set Design
Kate McGee – Lighting Design
Dianne Smith – Costume Design
Wyatt Moniz – Video Design
M. Florian Staab – Sound Design
Leslie Cuyjet — Choreographer
Eric Dyer – Production Manager
Jason Kaiser — Production Stage Manager
Autumn Angelettie – Associate Director
Louis Brown – Associate Costume Design
Alex Brock — Associate Sound Design/Audio Engineer
Francisco J. Rivera Rodriguez — First Assistant Stage Manager
Yuchen Lin — Second Assistant Stage Manager
Sara vanden Huevel — Wardrobe & Props Supervisor
Carl Hancock Rux – Creative Advisor
Production History
Church of the Holy Trinity, Vicksburg MS – December 11, 2019
St. Alban's Episcopal Church, Bovina, MS – December 13, 2019
Mabou Mines, New York, NY – May 11-29, 2022