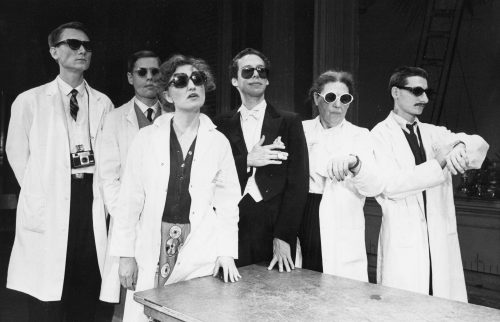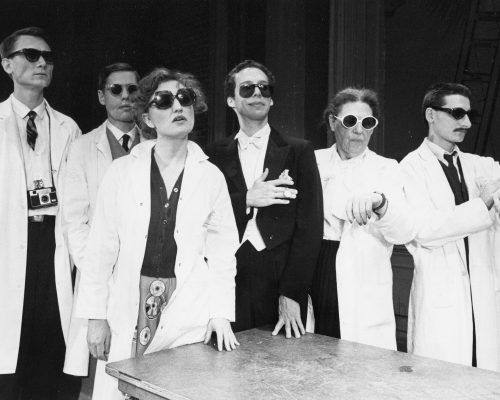 "The piece is poetic, sensuous, bitterly funny, a collage of surprises. It is also filled with agitation and what I supposed Edward Teller would consider propaganda. A brave, astonishing event.
What's brave is that it takes on our worst fears about the future—the ones barely faced in private, rarely in art, abstractly in social science, never in theatre. And what's astonishing is that Mabou Mines—a group praised and damned for many things, but never yet for its politics—has merged uncompromising experimental theatricality with outfront didactic intent …
In this play, such fear and defensiveness is never exploited. It is aroused, but without cruelty; in such a way that it can be considered, as well as felt. The use of theatricalism and satire to achieve this distancing is the most delicate and powerful aspect of the work. There are, after all, many ways to mobilize people. "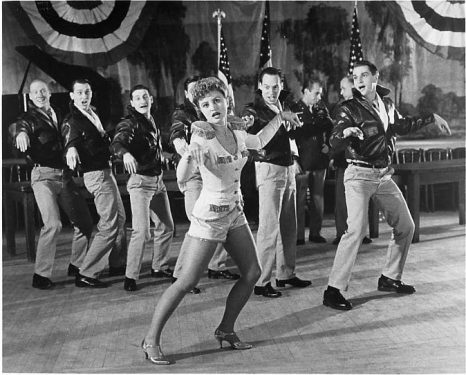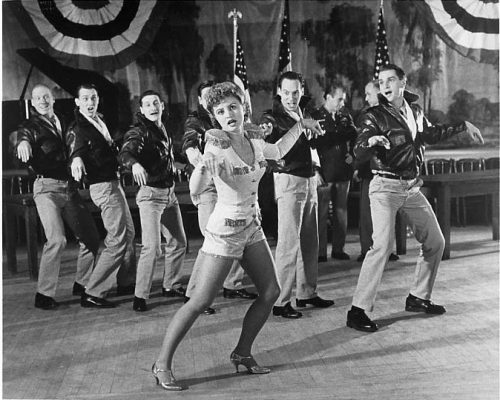 In 1986 the film version of the theatrical production  primeiered at FILM FORUM I.
"In sketches, some more serious than others, we see Faust selling his soul to the devil, which, eventually leads, via Madame Curie, to the splitting of the atom and the construction of the first A-bomb. Says J. Robert Oppenheimer, "We physicists have known sin." The radioactive isotope is modern man's philosopher's stone."
– Vincent Canby, NYTimes, 1986
Courtesy of Cinema Guild
"A wacky, free-wheeling satire which examines key moments in the history of nuclear power, from the flowering of medieval alchemy in the 16th century, to the development of the atomic bomb, Hiroshima and its aftermath, and the cultural and political fallout of the Cold War '50s. Based on the Obie award-winning stage play by the Mabou Mines avant-garde theatrical troupe, the film imaginatively uses a variety of styles and techniques, freely mixing historical and fictional characters, archival footage, poetry, musical comedy, dance numbers, serious drama, plus an evocative musical score by David Byrne with additional music by Philip Glass."