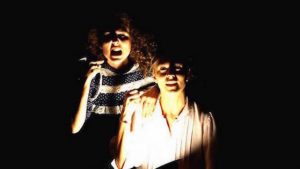 Pictured Above: Stephanie Hayes and Emily Reilly – 2014-15 Resident Artists in "BADrum"
THE DEADLINE TO APPLY FOR THE 2016-17 "YEAR B" RESIDENT ARTIST PROGRAM IS OCTOBER 7, 2016 at 11:59pm EST. The application will officially open on September 12, 2016 so STAY TUNED!
Important Note: The 2016-17 "Year B" Resident Artist Program is open only to former Resident Artists from "Year A" BY INVITE ONLY. Please do not submit materials for this year if you are not a former Mabou Mines Resident Artist; the next open applications will be for the 2017-18 Resident Artist Program.
Mabou Mines/Suite, established in 1991, is the company's resident artist program, a laboratory for experiments with performance ideas developed with the particular needs of emerging artists in mind. Once emerging artists ourselves, we understand the formidable pressures upon early career artists and how difficult it is to find a non-academic setting in which to explore new ideas, We believe that process-focused development is the best way to create original work and that the opportunity to work this way can prove crucial to an artist's career. Mabou Mines' artistic directors see it as our privilege and responsibility to guide new artists along the path we have found so rewarding.
Mabou Mines/Suite is open to small companies and individual artists in all fields – playwrights, directors, performers, poets, dancers, acrobats, dramaturgs, composers, painters, sculptors, photographers, singers, choreographers, film & video artists, digital & computer artists – anyone with compelling performance ideas in need of investigation.
In the past, all resident artists have received mentoring, rehearsal space and a stipend. A public showing of the work is presented at the conclusion of the residency.
This program is only open to emerging artists living in the 5 boroughs of NYC or Minnesota.
The program is not open to students.
This program is made possible through generous funding by:
The Jerome Foundation
and with public funds from the City of NY Department of Cultural Affairs
and Materials for the Arts.